Field:

Metal Casting & Smithing Specialists

Location:

Takaoka-City, Toyama
KATSUJI NOUSAKU
President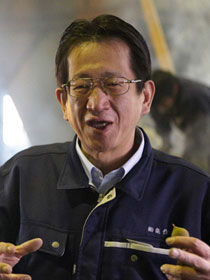 Katsuji Nousaku, a traditional metal casting craftsman, took on the challenge of working with pure tin, a metal that had always been considered too malleable for casting and finishing. Utilizing the "reversal" concept, he took advantage of that very quality and developed a whole new product series of flexible pure tin ware.
NOUSAKU's uniquely textured metal pieces are now on display at boutiques and major department stores nationwide, including the famous Aoyama and Ginza shopping districts of central Tokyo. Back in Takaoka, his hometown, Nousaku has become something of a local hero for unearthing the global potential of local businesses.
>>
Know more about Katsuji Nousaku
Takaoka City
Situated in the northwest of Toyama Prefecture, Japan, Takaoka is the central city of the prefecture's Western District. Takaoka has the 8th largest surface area of the prefecture and the second largest population after Toyama City. The climate of Takaoka is similar to that of much of the Japan Sea coast. All regions of Toyama Prefecture experience large quantities of winter snow and sultry summer days.

Takaoka officially became a city in 1889, however, its origins date back to 1609 when Maeda Toshinaga of the Kaga Domain entered Takaoka Castle and opened the city, which subsequently flourished as a center of industry. During its first two years, seven metalworkers (imoji) were stationed at what is now Kanaya-machi. This marked the beginning of the long history and fame of Takaoka Copper.

The Great Buddha of Takaoka

At almost 16 meters tall, the Great Buddha of Takaoka is one of Japan's three great Buddhas alongside those in Nara and Kamakura. The current Buddha made of Takaoka bronze was completed in 1933 after the previous wooden Buddha burnt down. It is now situated next to the temple in Takaoka's city center.

Zuiryū-ji Temple

Constructed to mourn the death of Maeda Toshinaga, the daimyo famous for fortifying Takaoka, Zuiryū-ji Zen temple is celebrated as being typical of early Edo period (1603~1867) architecture. Completed in 1663, it is located a few minutes drive from Takaoka station and is a designated National Treasure of Japan.

The Amaharashi Coast

Located north of Takaoka City, Amaharashi is a rocky coastal area of scenic beauty. Dotted with white sand beaches, evergreen pine trees and wonderful views of the 3,000 meter Tateyama Mountain Range, it is noted as one of Japan's 100 most beautiful beach areas.

Kanaya-machi

Boasting an array of traditional buildings, Kanaya-machi is an area of Takaoka with many well-preserved private homes and warehouses from the Meiji period (1868~1912), and is the manufacturing birthplace of Takaoka copperware.

Back to Brand List