The Original Pure Tin Basket
Unique NOUSAKU pure tin masterpieces are a pleasure to own and fabulous gifts
You've really got to see one of these - Everybody loves them! All the items in the KAGO series are interesting, fun pieces of innovation that can be used in a variety of ways.
The KAGO SQUARE is designed to be molded into shape by the user, and you don't need to be a body builder to do it. Pull, stretch and enjoy! Hygienic, washable and safe for serving foods, it can be a basket for bread, fruit, sweets, candies, chocolates, etc. When not in use, it is a lovely stand-alone table centerpiece, or focal point of a sideboard. It can be a planter decoration or a wine bottle holder/server, too!

NOUSAKU - Handed down and rooted in Takaoka.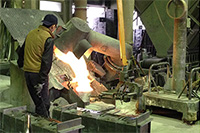 With a history spanning some 400 years, NOUSAKU originally created traditional items such as Buddhist altar ornamentation, tea ceremony paraphernalia and vases. More recently, working in collaboration with specialist designers, the company has developed metal casting techniques to create genuinely unique, 100% pure tin interior items and tableware par excellence.
Considering the time and energy that goes into producing each high-quality piece, they are exceptionally good value. Considerably underpriced. Cliché though it is, Nousaku has thought 'outside the box', and has essentially reinvented tin. NOUSAKU products are innovative, arty and useful - a perfect combination for modern lifestyles.