Champagne Flutes of extraordinary beauty
Add gold sparkles & bring out the flavor of your champagne
"Simply a pleasure to use. All my guests comment on these lovely pieces." Teaming up with Kanazawa gold-leaf artisans, NOUSAKU have once again created exceptionally beautiful pieces of practical art using their specialist metal-molding tech.
S size: Holds 130cc (approx.)
L size: Holds 180cc (approx.)
Tip: Place in the refrigerator for a while before use.
NOUSAKU - Handed down and rooted in Takaoka.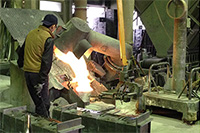 With a history spanning some 400 years, NOUSAKU originally created traditional items such as Buddhist altar ornamentation, tea ceremony paraphernalia and vases. More recently, working in collaboration with specialist designers, the company has developed metal casting techniques to create genuinely unique, 100% pure tin interior items and tableware par excellence.
Considering the time and energy that goes into producing each high-quality piece, they are exceptionally good value. Considerably underpriced. Cliché though it is, Nousaku has thought 'outside the box', and has essentially reinvented tin. NOUSAKU products are innovative, arty and useful - a perfect combination for modern lifestyles.