Extra-large Pure Tin Basket - the latest addition to the Flexible "Kago"
Especially eye-catching among Nousaku's products are those from the Nousaku Flexible Series, in which the "Kago" baskets figure prominently. These meshwork baskets are made of pure tin, which is extremely malleable, allowing them to be easily bent by hand to form baskets of varying heights. The latest addition to the "Kago" line, the "Kago Square LL" is an extra-large square with a side length of 40 cm. You can pull it up high, throw baguettes in it, and display it as an ornament as well as a bread basket, or shape it into a bowl to arrange fruits in. Of course, these baskets are not just for food—you can put anything in them. What's more, you can happily lose yourself in bending them this way and that, which is great fun in itself.
NOUSAKU - Handed down and rooted in Takaoka.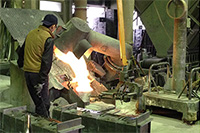 With a history spanning some 400 years, NOUSAKU originally created traditional items such as Buddhist altar ornamentation, tea ceremony paraphernalia and vases. More recently, working in collaboration with specialist designers, the company has developed metal casting techniques to create genuinely unique, 100% pure tin interior items and tableware par excellence.
Considering the time and energy that goes into producing each high-quality piece, they are exceptionally good value. Considerably underpriced. Cliché though it is, Nousaku has thought 'outside the box', and has essentially reinvented tin. NOUSAKU products are innovative, arty and useful - a perfect combination for modern lifestyles.