Pure Tin Chirori for people who love Atsukan hot Sake & chilled Sake
The Japanese word chirori refers to a container in which sake is warmed. The handle of this pure tin vessel is wrapped with thin strips of bamboo for protection from the heat, as the metal is a highly effective conductor. To warm sake, pour it into the "Chirori" flask and place it in a pan of hot water. The ions in pure tin are said to absorb impurities, improving the taste of water and other beverages. Chilled for a minute or two in the refrigerator, the "Chirori" ewer will also serve well as a container for cold sake.
** This product is introduced in the feature article "Metal a la Mode"**

NOUSAKU - Handed down and rooted in Takaoka.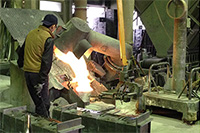 With a history spanning some 400 years, NOUSAKU originally created traditional items such as Buddhist altar ornamentation, tea ceremony paraphernalia and vases. More recently, working in collaboration with specialist designers, the company has developed metal casting techniques to create genuinely unique, 100% pure tin interior items and tableware par excellence.
Considering the time and energy that goes into producing each high-quality piece, they are exceptionally good value. Considerably underpriced. Cliché though it is, Nousaku has thought 'outside the box', and has essentially reinvented tin. NOUSAKU products are innovative, arty and useful - a perfect combination for modern lifestyles.