A Toast To Tin...
NOUSAKU Magic
So, you've enjoyed a couple in your Pure Tin Beer Cup and are ready for a shot. Purpose built, the Pure Tin Tumbler is created with the same superb tech.
Though an excellent choice of vessel for drinking spirits straight, if you like to combine yours with ice or ice and a mixer, the Pure Tin Tumbler is ideal. For those that like to sip and savor, tin containers demonstrate excellent thermal conductivity and as such keep cold drinks chilled for extended periods. The Pure Tin Tumbler, like the Beer Cup, feels great in the hand; it's weighty, lightly textured and very satisfying to hold. Pure tin also has very low allergic reactivity and known antibacterial properties.
Stamp of Quality
Handmade in Japan by the Takaoka foundry masters, each tumbler base is stamped with the NOUSAKU mark of quality. Supplied in bespoke paulownia wood presentation boxes, these pure tin masterpieces are superb gifts for yourself, or anyone else who loves to quaff in style.
NOUSAKU - Handed down and rooted in Takaoka.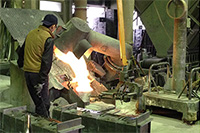 With a history spanning some 400 years, NOUSAKU originally created traditional items such as Buddhist altar ornamentation, tea ceremony paraphernalia and vases. More recently, working in collaboration with specialist designers, the company has developed metal casting techniques to create genuinely unique, 100% pure tin interior items and tableware par excellence.
Considering the time and energy that goes into producing each high-quality piece, they are exceptionally good value. Considerably underpriced. Cliché though it is, Nousaku has thought 'outside the box', and has essentially reinvented tin. NOUSAKU products are innovative, arty and useful - a perfect combination for modern lifestyles.