A perfect single-stem ikebana* vase exuding sophistication in simplicity
An eye catching stand-alone sculptural statement in its own right, this elegant single-stem vase is created by NOUSAKU metalworking masters. As simply gorgeous as it is, this inspired brass sorori (vase) is not supposed to be the main attraction! The Zen idea is to have an uninterrupted, uncluttered view to fully appreciate the delicate beauty of a single flower, or perhaps contemplate the fragility of a twig laden with cherry blossom buds. The focused and thoughtful design perfectly complements simple floral arrangements, and is a beautiful gift for the meditative soul...
*Ikebana is the Japanese art of the association of ideas and impressions of nature expressed through the arrangement of flowers.

NOUSAKU - Handed down and rooted in Takaoka.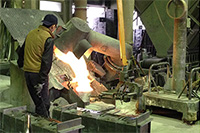 With a history spanning some 400 years, NOUSAKU originally created traditional items such as Buddhist altar ornamentation, tea ceremony paraphernalia and vases. More recently, working in collaboration with specialist designers, the company has developed metal casting techniques to create genuinely unique, 100% pure tin interior items and tableware par excellence.
Considering the time and energy that goes into producing each high-quality piece, they are exceptionally good value. Considerably underpriced. Cliché though it is, Nousaku has thought 'outside the box', and has essentially reinvented tin. NOUSAKU products are innovative, arty and useful - a perfect combination for modern lifestyles.