A pair of swinging Sake cups
A pair of cups with round figured bottom which swings softly when putting on the table.
Also, out figure is slightly dis-accurate that makes us feel rustic hand-made craft, in spite that this is made of metal. For Sake, for an appetizer, or for dessert, this cup may suit for any situations you like. The volume of a cup is approximately 40cc (1.3 oz).
Believed to remove impurities and so markedly improve the flavor of Sake, you should be aware that the choice of pure tin, combined with the set's inherent beauty, may cause you to consume more of your favorite Sake!!
Known as the most expensive metal after gold and silver, tin is significantly antibacterial, and also known as a material with high heat conductivity. The inner side of this item is gilded; a collaborative manufacturing between craftsmen of gold leaf at Kanazawa, Ishikawa prefecture. This set of 2, one of tin and one of gold finish, makes a great gift for someone you care for. Presented in a gift box, the cup is a pleasure to own and use, and makes a superb gift that cannot fail to be pleased.
NOUSAKU - Handed down and rooted in Takaoka.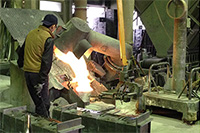 With a history spanning some 400 years, NOUSAKU originally created traditional items such as Buddhist altar ornamentation, tea ceremony paraphernalia and vases. More recently, working in collaboration with specialist designers, the company has developed metal casting techniques to create genuinely unique, 100% pure tin interior items and tableware par excellence.
Considering the time and energy that goes into producing each high-quality piece, they are exceptionally good value. Considerably underpriced. Cliché though it is, Nousaku has thought 'outside the box', and has essentially reinvented tin. NOUSAKU products are innovative, arty and useful - a perfect combination for modern lifestyles.