Octagonal bowls that helps cold foods stay cool longer
Part of the "Kuzushi" series, the octagonal "Ori" bowls designed by Makoto Koizumi come in three sizes. The range of sizes allows them to be used for serving all sorts of delicacies, from appetizers to individual portions of dessert and dipping sauces. If they are chilled for a few minutes before use, these relatively deep bowls will help cold foods stay cool longer.
** This product is introduced in the feature article "Metal a la Mode"**

NOUSAKU - Handed down and rooted in Takaoka.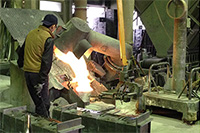 With a history spanning some 400 years, NOUSAKU originally created traditional items such as Buddhist altar ornamentation, tea ceremony paraphernalia and vases. More recently, working in collaboration with specialist designers, the company has developed metal casting techniques to create genuinely unique, 100% pure tin interior items and tableware par excellence.
Considering the time and energy that goes into producing each high-quality piece, they are exceptionally good value. Considerably underpriced. Cliché though it is, Nousaku has thought 'outside the box', and has essentially reinvented tin. NOUSAKU products are innovative, arty and useful - a perfect combination for modern lifestyles.