Pure tin bowls in natural irregular shape by making the most of tin's malleability
Designer Makoto Koizumi designs things big and small, from buildings to products. Here he has highlighted tin's malleability in beautifully organic forms. As suggested by the word yugami, which means "distortion" in Japanese, these small bowls from the "Kuzushi" series are slightly irregular in shape. Place one of these pure tin bowls in the refrigerator for a minute or two before arranging a salad or dessert in it, and you'll be amazed at how great the food tastes. The antibacterial qualities of the pure tin help keep food fresh longer.
** This product is introduced in the feature article "Metal a la Mode"**

NOUSAKU - Handed down and rooted in Takaoka.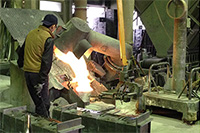 With a history spanning some 400 years, NOUSAKU originally created traditional items such as Buddhist altar ornamentation, tea ceremony paraphernalia and vases. More recently, working in collaboration with specialist designers, the company has developed metal casting techniques to create genuinely unique, 100% pure tin interior items and tableware par excellence.
Considering the time and energy that goes into producing each high-quality piece, they are exceptionally good value. Considerably underpriced. Cliché though it is, Nousaku has thought 'outside the box', and has essentially reinvented tin. NOUSAKU products are innovative, arty and useful - a perfect combination for modern lifestyles.