Exquisite ornamentation by Shinya Yamamura
Small enough to fit in the palm of the hand, this finely decorated box showcases Yamamura's unparalleled mastery in the creation of works in miniature.
Shinya Yamamura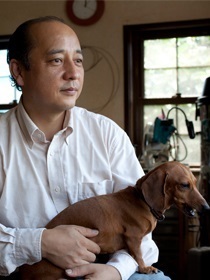 Shinya Yamamura is one of the world's most noted lacquer artists today, and his work can be found on view not only at the local 21st Century Museum of Contemporary Art, Kanazawa, but in art museums around the globe, including the Royal Museum of Scotland and the Los Angeles County Museum of Art. Born in Tokyo, Yamamura is currently a professor at the Kanazawa College of Art Graduate School. His pieces are intended not only for display, but to bring pleasure through their use in everyday settings; coveted by collectors worldwide, they are snapped up as soon as they appear on the market. Sometimes even creating his own original tools, Yamamura handles every part of the production process himself, from preparing the wood base to applying the exquisite ornamentation.