New type of accessory
As the name suggests, this choker features two awaji-musubi knots of different lengths swaying delightfully on the neck. It's the perfect complement to casual fashions such as light, simple sweaters and T-shirts. Yuriko Hirose makes her Jiyukajin line of accessories with a type of mizuhiki cord in which sturdy thread is wound tightly around a core of durable washi paper to produce a material far more robust than normal mizuhiki, with excellent color and water resistance. These are accessories fashioned from a futuristic material that combines the gloss of metal and the lightness of paper.
Yuriko Hirose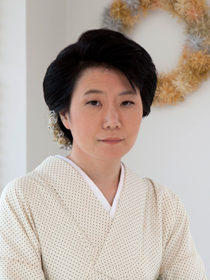 Mizuhiki are traditional decorative cords fashioned from strips of handmade washi paper that are wound together, starched, and then colored. Because they retain their shape when bent, mizuhiki lend themselves readily to the creation of three-dimensional ornaments. Ten years ago, artist Yuriko Hirose visited New Zealand on a cultural exchange trip and introduced mizuhiki to her friends there. Their response inspired her to teach herself everything there was to know about mizuhiki, and to begin making them as works of art. She has found that combinations of the awaji-musubi, the basic mizuhiki knot, are a simple way to add a bit of flair to everyday settings, and her products range from home décor goods to fashion accessories. With the elegant presence of precious metal yet so lightweight, the necklaces featured here embody traditional craftsmanship applied to modern, versatile forms.