Featuring natural motifs
By inserting a white ceramic glaze between two sheets of glass to fuse them into a single sheet full of air bubbles, Hoki achieves an effect reminiscent of thawing snow or pools of water. Different combinations of glazes produce the variegated colors.
Shieri Hoki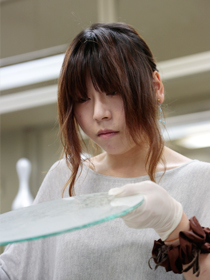 Shieri Hoki studied glasswork in the Department of Industrial, Interior and Craft Design at Musashino Art University in Tokyo before spending two years at the Toyama City Institute of Glass Art. Drawn to Kanazawa on account of its rich natural environment, its time-honored traditions, and the intimate place of arts and crafts in the everyday life of the city, Hoki enrolled at the Utatsuyama Craft Workshop, a training institute in Kanazawa for young artisans. Among the city's distinctive arts and crafts, Hoki was attracted in particular to akae (red enamel) Kutani ware. Her work features natural motifs. On glassware decorated with amorphous patterns she depicts thawing snowdrifts and pools of water, images signifying the arrival of spring that are familiar to Hoki from her formative years spent in the snowy Hida district of Gifu prefecture. Deep inside her glassware, which glows softly as if shrouded in morning mist, beats the dynamic rhythm of nature.