Tastefully Tamed Tin Treasures
What a lovely little multipurpose gift! Presented in a set of five and designed originally by Emi Yoshida as bendable chopstick rests, these inspired pieces of pure tin art created by the metal molding magicians at NOUSAKU in a figure of 8 shape lend themselves beautifully to a number of stylish, alternative uses. For example:
iPhone stand (panoramic)
Business card stands
Table setting name-card holders
Photograph holders
Chopstick rests
Can be worn as rings!
The number 8
The number 8 is rich in symbolism and an auspicious numeral in many cultures around the world. Written as 八 and pronounced hachi in Japanese, notice the way the character gradually opens out at the bottom. This conveys the idea of the future spreading out in front, and of growing prosperity. Thus considered very lucky, the number 8 is often used as the theme for gifts both to and from newlyweds.
NOUSAKU - Handed down and rooted in Takaoka.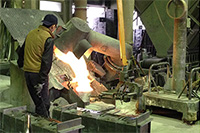 With a history spanning some 400 years, NOUSAKU originally created traditional items such as Buddhist altar ornamentation, tea ceremony paraphernalia and vases. More recently, working in collaboration with specialist designers, the company has developed metal casting techniques to create genuinely unique, 100% pure tin interior items and tableware par excellence.
Considering the time and energy that goes into producing each high-quality piece, they are exceptionally good value. Considerably underpriced. Cliché though it is, Nousaku has thought 'outside the box', and has essentially reinvented tin. NOUSAKU products are innovative, arty and useful - a perfect combination for modern lifestyles.