Elegantly Inspired Pieces for Enhanced Dinner Party Sophistication
These superb pure tin cutlery rests, inspired by hashi oki (chopsticks rests), come in a set of five (as is the tradition in Japan for almost any kind of set), and are supplied in a lovely paulownia storage box making them a delightful gift.
Along with finger bowls, cutlery rests are of course still sometimes used in the West at posh dinner parties. They are placed at the top of the dinner plate, to avoid table linen being soiled after cutlery has been used. If you like to set an elaborate dinner table for guests, or even if you don't, these inspired pieces representing designs traditionally important in Japan, are a great talking point.
As with every pure tin piece manufactured by NOUSAKU, they are designed to be easily bent into shape by the user. Though these rests can be bent multiple times without easily splitting or tearing, to ensure their longevity, we would recommend keeping it to a minimum.
Designs
1. Turtle shell (Considered a year-round auspicious motif)
2. Ocean waves (A design used in Japan for a thousand years, Seigaiha (blue ocean waves) depicts waves on a calm sea and expresses peacefulness)
3. Plum (Associated with the start of the spring season)
4. Sacred bamboo (Revered throughout Asia for millennia)
5. Calabash aka gourd (An ancient symbol of health)
NOUSAKU - Handed down and rooted in Takaoka.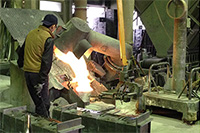 With a history spanning some 400 years, NOUSAKU originally created traditional items such as Buddhist altar ornamentation, tea ceremony paraphernalia and vases. More recently, working in collaboration with specialist designers, the company has developed metal casting techniques to create genuinely unique, 100% pure tin interior items and tableware par excellence.
Considering the time and energy that goes into producing each high-quality piece, they are exceptionally good value. Considerably underpriced. Cliché though it is, Nousaku has thought 'outside the box', and has essentially reinvented tin. NOUSAKU products are innovative, arty and useful - a perfect combination for modern lifestyles.