High quality bronze perfectly captures the essence of the hedgehog
Customer comment:
"My girlfriend fell in love with the hedgehog while we were in Japan. I had to order it, it's so cute and well made."
Take a look at that cheeky little face!
Bonsai inspired design and NOUSAKU's fab metal molding tech combine to create this solid bronze nocturnal critter. A lovely piece to add to a collection and an individual point of interest that can be placed anywhere in the home or office.
Note: Due to export restrictions, we supply hoggy without moss. To complete his look, please pick a bit up at a garden center, if you don't have any to hand!
NOUSAKU - Handed down and rooted in Takaoka.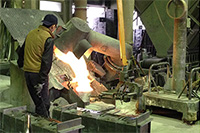 With a history spanning some 400 years, NOUSAKU originally created traditional items such as Buddhist altar ornamentation, tea ceremony paraphernalia and vases. More recently, working in collaboration with specialist designers, the company has developed metal casting techniques to create genuinely unique, 100% pure tin interior items and tableware par excellence.
Considering the time and energy that goes into producing each high-quality piece, they are exceptionally good value. Considerably underpriced. Cliché though it is, Nousaku has thought 'outside the box', and has essentially reinvented tin. NOUSAKU products are innovative, arty and useful - a perfect combination for modern lifestyles.