A Visit to Glass Studio Kirlo
Inside the tile-roofed wooden house, a small gallery glistens with dozens of glass artworks arrayed along the earthen walls. Natural sunlight filters in and reflects softly off the hard crystalline surfaces, filling the space with a quiet beauty. We knew glass went well with wood, but it also complements earth nicely.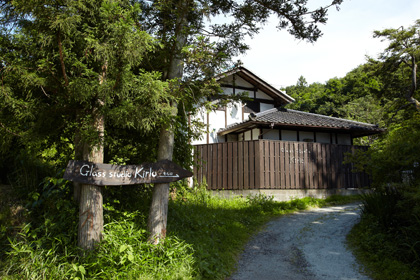 We find Glass Studio Kirlo in the rural Tohoku community of Muratamachi , a short thirty-minute drive from Sendai. "The nearest countryside to Sendai," says Eiji Shiga, one of the studio's two artist-owners. Shiga and his wife Sayuri Matsuda renovated an old farm shed and established the studio here eight years ago.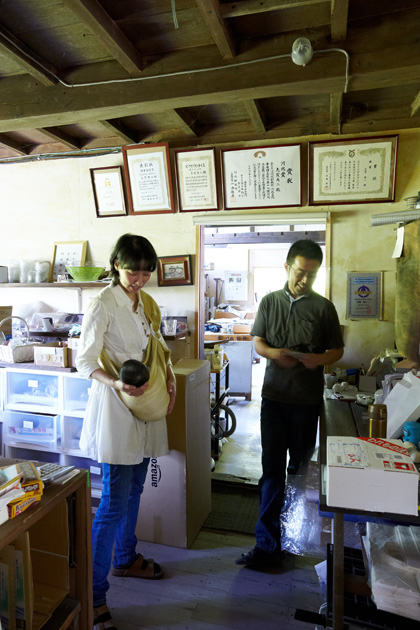 The two artists first met on Niijima in the Izu Islands, some 160 kilometers due south of Tokyo. Sendai-born Shiga was chief of the Niijima Glass Art Center, renowned for its workshops, and Matsuda came to the island to study glassmaking there.
Niijima has gained something of a reputation as a "glass island." As Shiga tells it, "Crush and melt Niijima's rocks, and you get glass. My mentor Osamu Noda saw the potential for generating interest in the island, and set up the Glass Art Center in 1988. Through Niijima glass, he sought to launch a Japanese glass movement. Everything I know about glass, all my basic technique, I owe to my ten years with him."
Noda had studied at Illinois State University, a leading school for glass arts, and came to know internationally famous glass artists, many of whom he invited to Niijima to teach. Thanks to this intensive studio environment, Shiga was exposed to world-class glass craft—and glass sculpting in particular—right here in Japan.
Matsuda, meanwhile, was born and raised in Kyoto, the cultural capital of tea ceremony, kaiseki cuisine, and associated refinements in tableware. "My family was into tea and traditional dance, and I'd always see our dining table set with lots of different serving dishes. Then in university my professor had a mingei folkcraft background, so my forms are basically from traditional tableware. My husband, on the other hand, started out making objets d'art—most of the pieces in his solo shows were sculptural. I couldn't understand where he was coming from."
Two different sensibilities toward the same material, living together under the same roof—how does that influence their respective creative expressions?
For one thing, Shiga only began making tableware after they were married. "I've learned a lot from my wife. Her thinking and processes are completely different from mine; she sees glass though another filter. Even in terms of lifestyle, she has different ideas. She's strong on eating and drinking vessels, so she's taught me many things about tableware."
Matsuda says, "I don't ponder things too deeply, but when it comes to using objects in daily life, I probably think about it more than he does. For instance, this kind of cup shape would be dangerous if handled like a normal cup. That forces you to focus and slow down as you use it, which puts you in a calmer state of mind. The piece enters into your everyday pace, but then I'd like it to interrupt that rhythm and slow it down gracefully."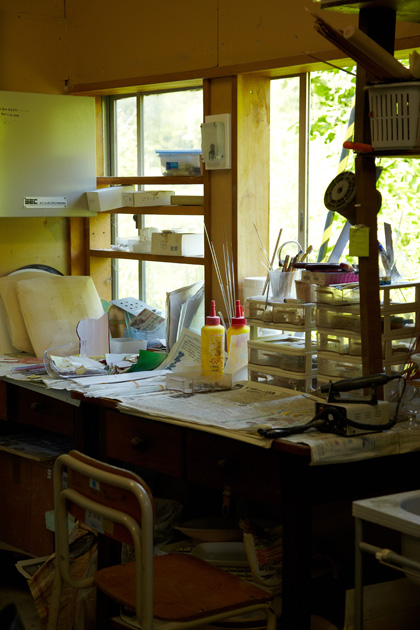 They show us around the studio. There are two kilns, one of them hand-built by the two artists. Perhaps this is common enough for artists who run their own studios, but Shiga and Matsuda are clearly capable of building anything. Shiga, whose construction contractor father inspired him to think about becoming a carpenter, creates glasses with whirled patterns reminiscent of the tree rings he saw in the lumber yard as a boy—though he himself only noticed the connection when someone else pointed it out.
Curious how he makes his signature vertical spirals, we ask him to demonstrate. Typically, the glassblower winds a small blob of molten glass around the tip of his blowpipe, then blows as he rotates the pipe by hand, making horizontal spirals around the rotational axis, or stripes when viewed from the side. Shiga, however, first makes horizontal spirals, then cuts the glass off, turns it ninety degrees, and reaffixes it to the blowpipe before shaping it into a cup. Our pro makes it look simple, but even we lay folk can tell that the labor-intensive technique requires consummate skill. That skill has won Shiga numerous prizes. "It's an Italian technique, but it doesn't have a name," beams Shiga.
"So much busy-work, no one thinks to make a cup this way!" laughs Matsuda.

With a baby born just two months ago, Matsuda had been taking a break from glassblowing, but she picks up the blowpipe again for us today. One of her specialties is glass layered with ginzumi silver foil, some five times thicker than silver leaf. "I call it frit fusing as opposed to powder fusing. Technically it's just glassblowing, but when the ginzumi melts onto the hot glass it turns a glazy gold. The color changes with the temperature. Ultimately the silver liquefies to yellow glass."
Firmly dedicated to their Tohoku base, the two artists have joined together with galleries in outreach efforts, hoping to interest local young people in crafts and foster a slow but steady rise in glassblowing in the region. "Our work here has a face," says Shiga. "I want customers to drink from my cups and think, 'That old guy with the beard made this.' As a craftsman I'm always thinking I have to let people know the kind of person who made what they're using."