The special Beckoning Cat presented to the Renault F1 team
What is carbon fiber?
Light, strong and flexible carbon fibers are also used in airplanes and F1 race car bodies as the lightweight material to replace metals. Another characteristic of carbon fiber is its expression changes according to the direction of light. The more curved the surface is, the more beautiful it becomes, and the thicker the clear layer on the surface, the deeper it looks.


Beckoning Cat Hybrid of Tradition (Natural lacquer) and Technology (Carbon fiber)
The difficulty we faced in the early stage, however, was that the attractive carbon fiber patterns became no longer visible when its surface covered with a thick lacquer layer. We found the lacquer process was a problem. Around that time, we met with Kazuo Atano a traditional Japanese craftsman, who specialized in the Hida Shunkei paint technique in Takayama, Gifu. When using the Hida Shunkei lacquering technique on wood, the natural grain of the wood shines through, celebrating the warmth of the wood beneath. As the carbon fiber patterns on the beckoning Cat are the essence of its beauty, we thought that his lacquer technique was the best solution for our problem. The surface applied with his lacquer looks smooth and shiny with a deep reddish purple color while showing the carbon fiber patterns. We found the Hida Shunkei Paint process a perfect solution for the carbon fiber coating.
What is Beckoning Cat?
Beckoning cat 'maneki-neko' is a traditional Japanese lucky charm believed to bring good luck. It is a traditional cat figurine commonly seen in the home & on business premises. While a raised right paw brings good luck & wealth, a Beckoning cat with a raised left paw is supposed to bring in customers. .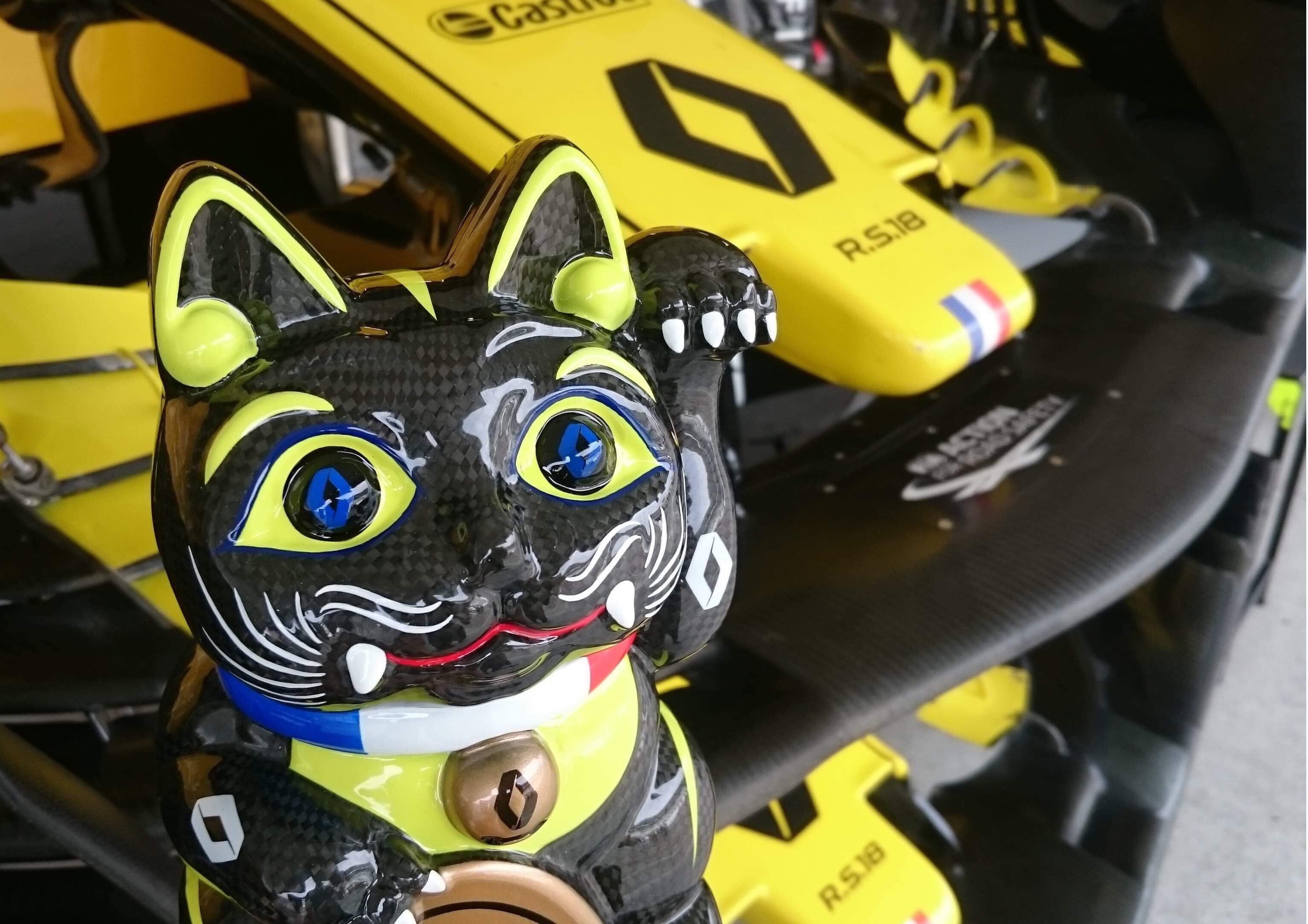 The special Beckoning Cat presented to the Renault F1 team