Miki Purnell recently made her notable recording debut with Swingin' to the Sea. Musically, the CD is full of joy, high musicianship, versatility, infectious enthusiasm, and memorable singing. But when one considers that Miki is a full-time doctor who practices in the San Diego area, it is particularly remarkable that her singing is so professional, fresh and inventive, never sounding like this is her second career.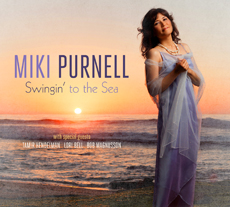 "I believe music is the melody of our soul," says Miki. "It touches the hearts of others and creates therapeutic harmony. It also cleanses our minds and helps us see the beauty of life. As a physician, I always want to promote well-being, so Swingin' to the Sea is filled with very positive feelings and messages as I jump into the world of jazz." In preparation for the album, she took songwriting lessons from vocalist and playwright Mark Winkler. "He taught me how to personalize lyrics and really own them, along with tasteful rhyming. I found songwriting to be therapeutic, and now I understand how songwriting is a part of music therapy!"
The music on Swingin' To The Sea features arrangements by pianist Tamir Hendelman and flutist Lori Bell with contributions from Miki. "Lori is a very talented flute player who really knows jazz and theory. Everything that she plays is very musical and picturesque. Lori introduced me to Tamir, who is an amazing person and musician. I learned a lot from him," Miki says. In addition to Hendelman, Dave MacKay plays piano on "A Night In Tunisia" and on his two compositions, "Free" and "Like Me." Also featured on the album are the up-and-coming young guitarist Joey Carano, veteran bassist Bob Magnusson, drummer Kevin Koch, and percussionist Tomy Aros. A special bonus is Reiko Obata's koto playing during the introduction of "A Night In Tunisia." Miki learned the koto from Reiko, and it was Miki's idea for it to be used on the Dizzy Gillespie classic.
Swingin' To The Sea features Miki Purnell coming up with her own fresh interpretations of such standards as "Bluesette," "Estate," "Maiden Voyage," "The Nearness Of You" (taken as a duet with Hendelman), "The Island," the rarely performed "Swinging On A Star," "On Green Dolphin Street", and "A Night In Tunisia." In addition she revives Alec Wilder's "Moon & Sand," introduces her originals "Sexy Sexy" and "Sunny San Diego Sunday," and sounds wonderful on Dave MacKay's "Free" and "Like Me." Her close interplay with flutist Lori Bell is among the highpoints, as are the creative piano solos of Hendelman and MacKay. Every note that Miki sings is not only perfectly in tune (she has perfect pitch) but is full of warmth and beauty.

Miki Purnell was born and raised in Hiroshima, Japan. She had classical piano lessons for seven years, starting when she was four. Miki sang as a child for the fun of it, often copying Japanese pop singers. At college, she heard jazz for the first time. "I heard 'Blue In Green' by Bill Evans and Miles Davis and it hit me so strong that I could not resist the temptation to sing jazz. I was also deeply impressed by Chet Baker and Ella Fitzgerald. I was inspired not only by their improv but by the stories of their lives." Miki wrote songs as a teenager, won a song contest, and sang in one club in Japan. But medical school soon took most of her time and music took a backseat.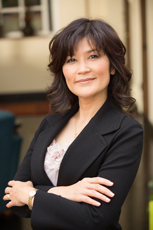 Miki became a doctor. She lived and worked in Hawaii, where she had occasional opportunities to sing. "As a medical provider, I did nursing home concerts with my attending doctor who played guitar. Singing with guitar and ukulele after a long day was fun!" She eventually settled in San Diego, where she established herself as a family physician. "After much time, I started getting the desire to sing again and explore jazz. I became deeply immersed in it, really studying the music. I took important lessons with Kevyn Lettau, two years with Dr. Juliette Singler for classic voice training, and with Joni Wilson, who is the best voice teacher ever. She had fourty years experience in voice and had the answers to all of the voice-related questions. When I met Lori Bell, she said that if I was serious about singing, wanted to become a better musician, and wanted to cultivate artistry, I should record a CD. I felt that it was time."
Miki Purnell, who sang at two major concerts in San Diego put on by the Japanese Earthquake Relief Charity, has an original style, a very appealing voice, and an irresistible enthusiasm for the music she sings. "This album is who I am and what I am here for, which is to love and support people. I want my audience and my patients to feel comforted when they listen to my work. My goal is to reach out to people where they need music. Music can reach people when words fail. I want to give assurance to others, showing that life is fun and a really worthy thing."
Swingin' To The Sea is an impressive beginning to Miki Purnell's second career and will be enjoyed by any listener who enjoys hearing a top-notch jazz singer.
Scott Yanow, author of ten books including The Jazz Singers, Swing, Jazz On Film and Jazz On Record 1917-76