Field:

Cosmetics

Location:

Nishinomiya, Hyogo
ENERGY ROSE by T.H. Body Balance
Products
Houshu Tanaka
T.H. Body Balance Co.,Ltd. : President & CEO, Beautician, Therapist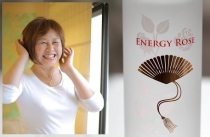 Born in Osaka in 1957 and married at the age of 25, engaged in the interior-related work as a company employee while raising one boy and one girl.

41 years old: She quit her job due to poor physical health for unknown reason. Hospitalized and wandered around treatment institutes for two years but didn't recover.

43 years old: A healthy encounter of the active lymph oil massage. She looked back at the time when she was so busy with her children, housework, job that she didn't have time for her own body and mind; she thought "there must be many women like me in the world". The feeling that "I want to be helpful for such women" arose, then she has decided to open a lymph oil massage salon.

47 years old: Active Lymph Oil Massage Salon, "Body Lab Plus" was opened in Nishinomiya City, Hyogo Prefecture. Healthy beauty seminars and treatments are held not only in Japan, but also in Shanghai and France.
For the sake of busy women all over the world from her own experience, she has developed her ENERGY ROSE Cosmetic series focused on "healing" and "aging care" using the superior Bulgarian rose oils with their aroma effects. Self-care seminars, treatment schools, "Body lab supporting schools" are also held at companies and schools.
Back to Brand List