Field:

Porcelain seller

Location:

Kyoto-City, Kyoto
In The Mood
Products
Tomihiro Miyoshi
President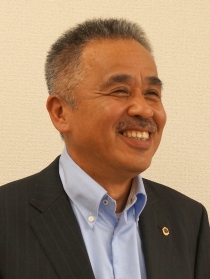 Opened a ceramics shop in Kitayama, Kyoto 25 years ago at the age of 33. The shop's products became popular in no time at all, and 16 further shops were opened in well-known departments stores from all over Japan. These days, the company has switched focus to product planning and sales.
Skills (sense of business) are also important, but the most important thing is passion!
Make progress by giving your work 120% with both your mind and body!
This is our conviction, and that's why we churn out one hit product after another.
We take the individual products we've received from different creators, potteries, and production areas, and group them by theme into one series. This new method gives our products breadth and depth, and allows us to express the sensibility of a new world through them.
The industry (those shops selling ceramics) has moved towards standardized products with few defects; on the other hand, the refusal of handmade potters to push the envelope has made it difficult to thrill or delight customers seeking those wares. We see things from their point of view, and we strive each day to fulfill our sense of duty: to ensure that the flame of handmade pottery is never extinguished.
Back to Brand List