Elegant, one-of-a-kind spoons crafted entirely by hand
The work of Takemata, who started out repairing antique jewelry, is distinguished by the unique, well-used look he imparts to each item. Takemata gives stainless steel the patina of age usually associated with materials such as copper and brass. Beating the steel and heating it to a temperature of around 800°C not only provides an antique look but also hardens the utensil, producing delicately shaped items that can withstand everyday use.
Yuichi Takemata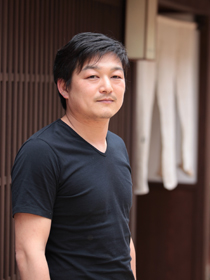 Yuichi Takemata started out as a jewelry maker, then learned metalwork techniques such as hammering and chasing, and gradually moved into making cutlery. "Dinnerware produced in Kanazawa is very high-quality, but I felt there wasn't much in the way of cutlery to complement it, other than the usual off-the-shelf items. I started making cutlery because I wanted to eat with utensils of superior design at my own table. My focus is on creating pieces that can be combined with the dinnerware we use every day." Indeed, Takemata's handmade utensils have a beauty that sets them apart from cutlery of the mass-produced variety. The surface of the stainless steel is dented with a metal hammer to create texture, then finished in a way that allows the user to enjoy the metal's changes through the years.