New feeling accessory
A freshwater pearl gleams elegantly amid petals layered just like an old rose to create an accessory perfect for formal occasions such as weddings. The flower, measuring around 4 centimeters in diameter, is an exquisite piece of craftsmanship made from over 7 meters of mizuhiki.
Yuriko Hirose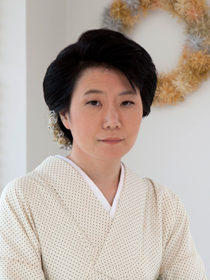 Mizuhiki are traditional decorative cords fashioned from strips of handmade washi paper that are wound together, starched, and then colored. Because they retain their shape when bent, mizuhiki lend themselves readily to the creation of three-dimensional ornaments. Ten years ago, artist Yuriko Hirose visited New Zealand on a cultural exchange trip and introduced mizuhiki to her friends there. Their response inspired her to teach herself everything there was to know about mizuhiki, and to begin making them as works of art. She has found that combinations of the awaji-musubi, the basic mizuhiki knot, are a simple way to add a bit of flair to everyday settings, and her products range from home décor goods to fashion accessories. With the elegant presence of precious metal yet so lightweight, the necklaces featured here embody traditional craftsmanship applied to modern, versatile forms.