Since beginning an illustrious career as an international concert pianist over 20 years ago, among many other achievements Yokoyama has released more than 30 CDs to great critical acclaim. His "Liszt's Etudes of Transcendental Techniques", produced by Grammy nominated producer, Wolf Erichson, and released by Sony, won the 25th International Liszt Grand Prix.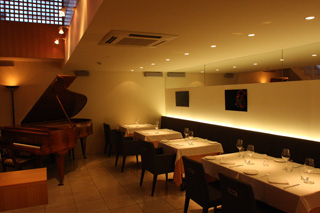 The live recordings of Yokoyama performing Beethoven's complete solo works, also released by Sony, includes 32 Sonatas and Beethoven's entire major piano works such as the Bagatels and all the Variations. Recognized and awarded by the Agency of Cultural Affairs, this brilliant CD set is absolutely outstanding.
Guiness Book of World Records
In a single day in 2010, Yokoyama performed 166 of Chopin's solo works, including all his published pieces and major posthumous works. The Guinness Book of World Records recognized this achievement as 'Most pieces of music performed by a solo artist in 24 hours', while the government of Poland awarded him the "Chopin Passport" (presented to 100 artists worldwide who carried out remarkable activities related to the works of Chopin in the year of the 200th anniversary of Chopin's birth).
Disaster Support
In 2011, the 20th anniversary of his debut, Yokoyama performed all 212 solo works by Chopin at Tokyo Opera City Concert Hall in 18 hours as a charity event in support of those affected by the Great East Japan Earthquake. The Guinness Book of World Records again officially recognized Yokoyama's achievement. This concert was restaged at the International Chopin Festival in Duszniki, Poland, with the entire proceeds being donated to the Red Cross in support of the Tohoku disaster.
On May 3rd, 2012, Yokoyama again performed a marathon Chopin concert at Tokyo Opera City Concert Hall, and is already planning to do it again in 2013.
Currently, besides performing regularly as a concert pianist, Yokoyama gives master classes at the Miyazaki International Music Festival, and teaches at Ueno Gakuen and Elisabeth University of Music. He also runs several elegant restaurants where he regularly gives salon recitals: "Ristorante G" in Tokyo, and in Kyoto "Chimera" and "Yasaka Hanakago".
Performing with the best of the best at some of the world's most well known venues, Yokoyama's achievements over the past 20 years are astounding. The following list, by no means comprehensive, shows some of the highlights:
1989: Won prizes at the Busconi International Concours and the Marguerite Long-Jacques Thibeaud Concours.
1990: Having won third prize and the Sonata prize at a Chopin International Piano Competition, Yokoyama officially began his career as an international concert pianist. He soon received the Cziffra Foundation Award in Paris, the 18th Japan Chopin Association Award, the Shinnitetsu Music Award and the Mobil Music Prize.
Debuted in Austria with the Wiener Kammerorchester in the Wiener Konzerthausgesellschaft and the Brucknerhaus in Linz.
Debuted in Germany with subscription concerts with the Berliner Sinfonie Orchester under Michael Schoenwandt at the Berliner Konzerthaus.
Debuted in St. Petersburg with the St. Petersburg Philharmony under Nikolai Alexeev.
Performed the 'Emperor Concerto' with Eriaf Inbal and the Berlin Symphony Orchestra.
Performed with Myung-Whon Chung and the London Symphony.
Performed a solo recital at the Weill Recital Hall at Carnegie.
Solo recitals playing complete works of Chopin and solo works of Beethoven including the 32 Sonatas, Variations and Bagatelles.
Performed three Rakhmaninov Piano Concerts in one night in Tokyo.
Performed Liszt 1st piano concerto with Jun Merkl and the NHK symphony Orchestra, and did a marathon concert of all 5 Beethoven piano concertos with the Japan Chamber Orchestra in one night.
Toured Japan with the St. Petersburg Philharmonic Orchestra under Temirkanov, and the Budapest Festival Orchestra under Ivan Fischer.
Maestro Neeme Jarvi invited Yokoyama to perform with the Gothenburg Symphony Orchestra on its Japan tour. (Sony has released live recordings.)
Toured with concertmaster Daniel Gaede of the Vienna Philharmonic.
Appeared in several International Music Festivals including the Prague Spring Festival, the Janacek May Festival, both in Czech Republic, the Kuhmo Chamber Music Festival in Finland, and the Festival Semaines Musicales en Touraine in France.
New Year's Eve, 2011: Performed all 5 of Beethoven's piano concertos at Tokyo Opera City Concert Hall.
2012: Performed 4 piano concertos by Tchaikovsky, Beethoven (no.5), Chopin (no.1), and Rachmaninoff (no.3) in Osaka and 3 piano concertos by Tchaikovsky, Ravel and Rachmaninoff (no.2) in Tokyo, which both sold out.