Cool pad!
Check out that gorgeous wood grain!
Slave to your PC? How about a slab of genuine walnut or maple in mousepad guise to help take the sting out of Monday mornings? There's nothing like the look and feel of real wood to help relax the soul.
Picture-perfect peripherals
True, optical mice these days don't necessarily require a mousepad to function, but this is just so handsome... it dresses up a work station or desk top beautifully.
The Hacoa Koro looks and works great with the Play Mouse – A perfect pair! Add the magnificent Wooden Keyboard to the equation for exquisite fingertip luxury, everyday!
Super smooth satin finish
As optical mice don't need much travel real estate, the surface dimensions of 7 x 8 inches are spot on. While the wooden, matte black Angle Adjuster cylinder puts the Koro at a comfortable incline, if you prefer a flat surface to glide your mouse upon, simply flip the pad over and use the Angle Adjuster groove as a pencil/pen tray. Entirely handmade, the Koro has a warm, smooth satin finish - no rough edges or splinters anywhere. Did we mention the woodgrain? Check it out!
If you're a computer user who appreciates the look and feel of handmade wooden products, then the Hacoa Koro Mousepad will be a lovely addition to your work station or desk top.
The Coolness
Top quality timber (walnut or maple)
Natural woodgrain patterns
Smooth satin finish
Perfect size
Use flat or at an incline
Finely crafted by hand
Created from a renewable resource
Designed and made in Japan
Top gift for the computer users in your life
Hacoa - Ecology, Hacoa style.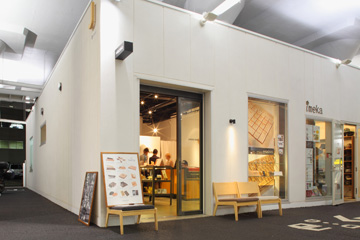 Based in Fukui prefecture, Yamaguchi Crafts began life some 50 years ago producing wooden boxes to be urushi lacquered. Concerned about the ever increasing consumption of plastics in the developed world, in 2001 they began to produce ecologically friendly items under the brand name Hacoa (taken from 'hako' meaning box in Japanese). Hacoa create beautiful, useful wooden items to fit our environmentally friendly, modern lifestyles. Occasionally also producing one-off items, in 2002 they created a name box to commemorate the birthday of Princess Aiko, and in 2004 were commissioned to produce wooden plaques for two luxury cruise liners, the Diamond Princess and the Sapphire Princess.