Timeless Far-Eastern elegance & romance by shimmering candlelight
In a harmonious fusion of the enhanced beauty of raw materials and the understated clarity of simple yet distinctive design, NOUSAKU metal working artists, using their famous molding and hand-finishing technology, have created five exquisite brass candle holders to perfectly complement five different candle shapes. Adding atmosphere and creating soft romantic light in the living room, dining room or bedroom, each candle holder is supplied as a set in a handsome black box with two matching candles. Fabulous gifts for friends and loved ones, as well as for home use.
Characteristics of Japanese candles (warosoku)
Made entirely of natural materials, the popularity of the warosoku candle in Japan grew with the spread of Buddhism. Known to create more light and last longer than paraffin based candles of a similar length, warosoku are traditionally made from the oil of the Japanese wax tree (haze no ki). This particular species, however, has declined to the point of becoming extremely rare. Takazawa Candle of Ishikawa prefecture use instead oil from a tree of the same family which is still found in abundance. The surfaces of Takazawa warosoku candles never show cracks, bubbles or blemishes of any kind. The long wicks are made from woven rush (the same material used to construct high-quality tatami mats) and create a strong flame that is not easily extinguished. The flame appears large while delicately dancing to a uniquely Far-Eastern tune.
NOUSAKU - Handed down and rooted in Takaoka.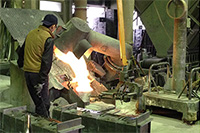 With a history spanning some 400 years, NOUSAKU originally created traditional items such as Buddhist altar ornamentation, tea ceremony paraphernalia and vases. More recently, working in collaboration with specialist designers, the company has developed metal casting techniques to create genuinely unique, 100% pure tin interior items and tableware par excellence.
Considering the time and energy that goes into producing each high-quality piece, they are exceptionally good value. Considerably underpriced. Cliché though it is, Nousaku has thought 'outside the box', and has essentially reinvented tin. NOUSAKU products are innovative, arty and useful - a perfect combination for modern lifestyles.