Wooden keyboard of timeless natural beauty
Designed by Hacoa, a Japanese brand known for its hand-carved computer peripherals, the Ki-Board* is a refreshingly creative twist on the otherwise mundane world of plastic mass production. Created entirely of carefully selected hardwoods of the highest quality, each keyboard is lovingly fashioned by a Japanese master craftsman in a labor-intensive process at the rate of just one per day!
Offered in a choice of either maple or walnut, the Ki-Board is roughly the same size as a standard keyboard, weighing in at 670 and 650 grams respectively. It uses a USB interface compatible with standard PCs, and comes with a trio of LED lights to display the Scroll Lock, Caps Lock, and Number Lock status. The lettering of the keycaps is laser-engraved to not wear off. The 89 keys are cut out from a single panel of wood, fashioned and returned to the same position so that the completed Ki-Board's grain pattern flows naturally. Run your fingers over the rich, warm finish of the natural hardwood - who doesn't like the feel of fine wood at their fingertips? Combining nature, creativity and precision engineering, the Ki-Board is simply outstanding in both form and feel. Clean lines, fabulous natural texture and a great clickity-clack sound provide a satisfying, truly unique and luxurious typing experience. Regardless of your office or home environment, the Ki-Board is a slab of nature that brings to mind the beautiful outdoors. (No need to worry about deforestation as the lumber comes from responsibly managed forests). Created from a renewable, sustainable and recyclable resource, the Ki-Board evokes a sense of peace and tranquility.
Hacoa's Ki-Board is a great gift for the office worker in your life. Perhaps a congratulatory present for someone starting out at a new job, or maybe a gift for someone who has reached an important career milestone. Whatever the occasion, there is something in the Hacoa range to suit every computer user.
*'Ki' is both 'wood' and 'tree' in Japanese.
Hacoa - Ecology, Hacoa style.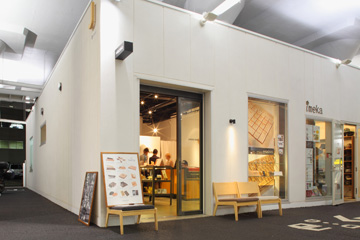 Based in Fukui prefecture, Yamaguchi Crafts began life some 50 years ago producing wooden boxes to be urushi lacquered. Concerned about the ever increasing consumption of plastics in the developed world, in 2001 they began to produce ecologically friendly items under the brand name Hacoa (taken from 'hako' meaning box in Japanese). Hacoa create beautiful, useful wooden items to fit our environmentally friendly, modern lifestyles. Occasionally also producing one-off items, in 2002 they created a name box to commemorate the birthday of Princess Aiko, and in 2004 were commissioned to produce wooden plaques for two luxury cruise liners, the Diamond Princess and the Sapphire Princess.