Stylish wooden docking station for enhanced iPhone4 or 4s fun
Here we go again with yet another perfect fusion of technology and nature! Juice up your iPhone4 or 4s in the coolest eco-friendly way with the Hacoa wooden docking station. A stylish accessory to enhance an indispensable gadget already designed to make our lives easier, Hacoa has carved a niche for the iPhone4/4s and its cable out of hardwood! This cool docking station is machine crafted and hand finished by Japanese craftsmen for a perfect fit. While being sturdy, lightweight, stable and portable, its clean, elegant lines beautifully show off the natural wood grain of the hardwood and enhance the inherent beauty of the iPhone4 or 4s. Simply insert your device and its cable into the carved out niche with or without a Hacoa case (sold separately), and change the position of the supplied cylindrical stick to use in either landscape or portrait mode to watch videos, charge the battery, and/or sync! Available in top quality maple or walnut, this precision engineered, stylishly simple docking station enhances the stunning looks of the iPhone4 or 4s while adding a touch of nature to a friend's, a colleague's or your own home or work environment.
Hacoa - Ecology, Hacoa style.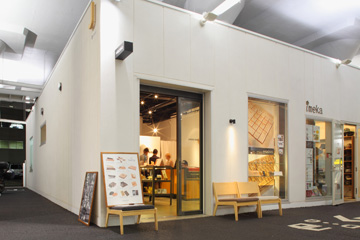 Based in Fukui prefecture, Yamaguchi Crafts began life some 50 years ago producing wooden boxes to be urushi lacquered. Concerned about the ever increasing consumption of plastics in the developed world, in 2001 they began to produce ecologically friendly items under the brand name Hacoa (taken from 'hako' meaning box in Japanese). Hacoa create beautiful, useful wooden items to fit our environmentally friendly, modern lifestyles. Occasionally also producing one-off items, in 2002 they created a name box to commemorate the birthday of Princess Aiko, and in 2004 were commissioned to produce wooden plaques for two luxury cruise liners, the Diamond Princess and the Sapphire Princess.