Based in New York since 2001, AK (Akemi Kakihara), is a hugely successful Japanese singer, songwriter and producer. She is also the Executive Director of TOGETHER FOR 3.11, "FIRST ANNIVERSARY MEMORIAL FOR JAPAN'S EARTHQUAKE AND TSUNAMI VICTIMS" held in New York City.
Along with the rest of the world, AK was horrified to see the TV images of her homeland immediately after the devastating quakes and tsunamis on March 11, 2011. She needed to do something and immediately rallied her circle of Japanese friends to form the Facebook group, 'JP Girls NYC Save Japan with Your Love'. The next day they began a series of fundraisers in Times Square and Grand Central which continue to be supported by the overwhelming generosity of New Yorkers.
AK wanted to do more. She decided that she needed to go to Northeastern Japan to assess the damage with her own eyes. In August 2011, six months after the disaster, AK visited the most affected areas of Miyagi and Fukushima prefectures. Arriving at a pre-school in a small town near the coast of Fukushima approximately 30 miles north of the Fukushima Dai-ichi Nuclear Power Plant, she was shocked by the astounding amount of debris piled up along the shoreline. Children have to see this everyday on the journey to and from school.
As a way of providing a little relief during her two-week stay in the area, AK did concerts for kids at five pre-schools who are unable to play outside due to the threat of nuclear radiation. The children at Minato Pre-school, Soma, Fukushima gave her drawings to thank her for her visit. AK was both delighted and moved by the heartwarming gift of 93 drawings of the children's smiling faces, hearts and flowers, and used those happy images to create FUKUSHIMA EGAO (smile) WRAPPING POSTER. All profits from the sale of the Wrapping Paper go to 'Japan Quake Fukushima Children Relief', which provides support to children orphaned by the disaster on March 11, 2011. "I FOR DREAM" is a new company set up by AK this year to encourage and support the future dreams of the those children.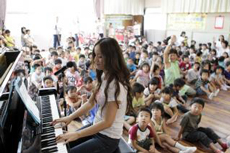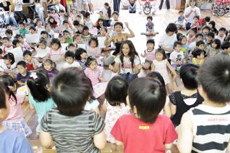 ALEXCIOUS (Alex Corp.) continues to support AK's ongoing efforts to provide relief to those affected by the East Japan Disaster.