Field:

Precious Metal Leafing Specialists

Location:

Kanazawa-city, Ishikawa
Mina Takaoka
Managing Director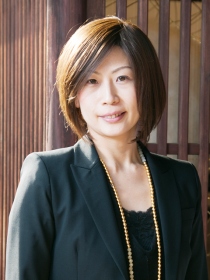 Identifying deeply with the feelings and attitude of her father (President of HAKUZA Co., Ltd.) to gold leaf, Mina Takaoka decided to become his successor.

After working for a producing company in Tokyo, she joined HAKUZA in 1997. She has managed projects such as the "HAKUZA Hikari Storehouse" (opened in 2004) where she endeavored to communicate the new possibilities of gold leaf; the flagship store "HAKUZA Nihonbashi" (opened in 2010); and a concept shop to promote 'a new style of beauty' called "Chaya Bijin" (opened in 2012). Mina also produced the new "Gold Leaf Body Art" service, not to mention developing an original cosmetic brand called "CHAYA cosme".

Announcing, "Keep challenging for Leaf's aesthetic value" as an eternal theme, Mina actively seeks ways to express leaf's inherent virtues and endless possibilities. She works tirelessly in many areas of the business - store operation, product planning, services and technological development. She is "a challenger fascinated by leaf", who continues to explore various fields in order to introduce, express and pass on "the true power and beauty of leaf".


Back to Brand List