Field:

Cosmetics Researcher & Manufacturer

Location:

Minato-ku, Tokyo
Reiko Kanise
the founder and CEO of LENAJAPON (LJ)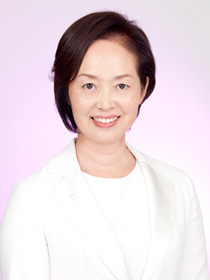 Reiko Kanise was born and grew up in Fukuoka, a major southwestern Japanese city blessed with the bounty of nature.
In 1975, she joined Hakuhodo, Japan's leading advertising agency, as a branding specialist and copywriter primarily in the field of food and cosmetics before becoming in 1999 President and CEO of Aeon Forest, the head franchisee of The Body Shop in Japan.

Her passion and dedication for setting women free from uncomfortable skin disorders led her to start her own skincare firm in 2007 and create LENAJAPON brand. It is now internationally recognized as top quality natural skincare products available online.

Natural Skin Beauty for All Ages
The glowing flawless skin you've always desired is no longer a dream if you know our simple beauty secrets—restore the skin's natural moisture balance and cell turnover rates.

LENAJAPON products contains the Quince Seeds and other plant-derived extracts which enhance the skin's natural moisture retention power. Enjoy smooth and beautiful skin with our Simple & Elegant method.



PYRUS CYDONIA SEED EXTRACT
Quince is the most amazing fruit known for a rich yellow exterior, a strong pleasant fragrance and, above all, many health benefits. Greek mythology associates it with Aphrodite, the goddess of love.

The amazing effects are mainly attributed to the Quince Seeds which have the superb quality of moisture retention and permeability. After numerous trials and errors, LJ has succeeded in making the rare and delicate Quince Seeds essence into products to help make your skin rich and radiant.
All LJ skincare products contain the essence abundantly.Try and feel the difference.




NELUMBO NUCIFERA GERM EXTRACT
The lotus flower is a symbol of magnificent beauty loved by many. The lotus root is an edible vegetable, and lotus germ extract from the ripened seed includes substances such as flavonoids which give your skin a luxurious glow.


HIBISCUS ESCULENTUS FRUIT EXTRACT
Okra is known to have been cultivated 2000 years ago in Egypt. Its unique viscous texture comes from polysaccharides and it has a high protein content. It protects your skin from dryness and give it a smooth texture.


GLYCOGEN
Glycogen can temporarily store the energy taken in from food. The source of energy, glycogen, is extracted from sweetcorn cobs before it is refined.It leaves a refreshingly smooth feel after use.


HYDROLYZED PRUNUS DOMESTICA
Prunes originate from the Caucasus district, well known as the land of longevity. Prunes have been used by humans for centuries, and they are even mentioned in ancient Greek poems. Prunes contain various vitamins (A, C, E and B groups).


LITCHI CHINENSIS SEED EXTRACT
The lychee was a favorite fruit of the Chinese Consort, Yăng Guifeī (Yang Yuhan). It is known as a beauty enhancer, and the lychee seed is commonly used in China.It gives moisture and resilience to the skin.


LACTOBACILLUS/GRAPE JUICE FERMENT FILTRATE
We fermented the juice from Italian Chardonnay grapes with lactic acid bacteria. An ingredient in LJ MOIST BAR, it removes dry skin cells and impurities. The fruit extract also includes fructose, sucrose, organic acid, minerals such as potassium, and amino acids.

Back to Brand List