Field:

Gold Leaf Press Studio

Location:

Kyoto city, Kyoto
Goldream uses authentic gold leaf and leather, handled by Kyoto's traditional gold leaf stamp artisans.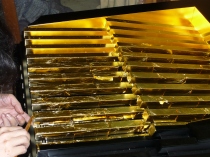 As part of their qualifications, our artisans have received honors such as prefectural prizes for their craftsmanship, and more. They have worked on famous Buddhist temples from all over the country, and are part of a new initiative to link artisans together. Their high craftsmanship has been highly praised all over the country, and their work has even been shown on mass media overseas. GOLDREAM was born from the desire to allow as many people as possible enjoy the pleasures of gold leaf items, and to make traditional products in order to keep this legacy alive. Our artisans have a high level of skill and passion for their work, and love to challenge themselves with new projects.
Back to Brand List