Field:

Samurai Goods

Location:

Tokyo
Creator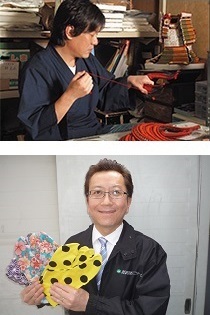 [ Ohkoshi Tadayasu ] Traditional craftsman
Since its founding some fifty years ago, Tadayasu has been dedicated to creating armor, inheriting the tradition of the founder. Tadayasu's armor products are not just tools to be used in martial arts, but can be called traditional works of art, incorporating techniques in metal, lacquer, leather and textiles to express the spirit of Japan in an elegant manner. They carefully create each item by hand to recreate traditional crafts in modern times using their high skills nurtured through their rich experience.
[ Kazuhiro Komatsu ]TABI Producer
To bring back life to the traditional Tabi industry of Gyoda City, Saitama Prefecture, Musashino Uniform in Gyoda City is developing overseas sales channels by planning Tabi designs that are suited for western clothing. The company produces various events that contribute to the development of the Tabi industry to discover new ways in which Tabi can be worn, including cooperation in planning and holding the "Tabi Contest" with the local government.
Production Area
[SAMURAI TABI]

Gyoda City, Saitama Prefecture

Gyoda City is known as the place where Saitama Prefecture got its name. Within the city is a group of nine large ancient burial mounds called "Sakitama Kofun Gun" ("Sakitama Burial Mounds") which includes "Inariyama Kofun" ("Inariyama Burial Mound") where the national treasure "Kin Saku Mei Tekken" ("Iron Sword with Transcription") was unearthed, and Japan's largest round burial mound "Maruhakayama Kofun" ("Maruhakayama Burial Mound"). This city is rich in nature and history with the "Kodai Hasu no Sato" ("Home of the Ancient Lotus") where 120,000 lotus blossoms of 42 types of lotuses including the ancient lotus bloom, Oshi Castle where a group of 500 men held off an attack against 20,000 men led by Ishida Mitsunari including an attempt to flood the castle and inspired the movie "Nobou No Shiro" ("The Floating Castle"), and its streets where manufacturers of "Tabi" (traditional Japanese socks) - who once made the most Tabi in Japan (more than 84 million pairs per year) - can still be seen today.


[SAMURAI Sword Scissors]

Seki City, Gifu Prefecture

With a history dating back 800 years, the traditional techniques of swordsmithing have being passed on from generation to generation in Seki City, Gifu prefecture, and continues to be used in the current production of everyday household goods such as kitchen knives and scissors. Domestically the number of shipments of these goods are top-class, and in recent years the sharpness of the blade has received high evaluation across the world.

Back to Brand List