Pure tin Sake cups of traditional 12-animal zodiac
Eto is the Japanese word for the Chinese sexagenary cycle, a cycle of 60 terms used for the calendar system, as well as for recording time and directions. The element of the cycle most commonly used in Japan is the traditional 12-animal zodiac, in which each year in a 12-year cycle is represented a different animal: the rat, ox, tiger, rabbit, dragon, snake, horse, ram, monkey, rooster, dog, and boar.
These zodiac sake cups are deceptively simple when viewed right side up. Turning them over, however, reveals that the base of each cup depicts the face of a different zodiac animal. They are remarkably lifelike, testifying to the amazing craftsmanship unique to the metal-casting town of Takaoka. New item dog: the zodiac animal for 2018 added to the lineup, currently there are eight kinds of " Eto" cups: monkey, tiger, rabbit, dragon, snake, horse, ram, monkey, and dog; Nousaku plans to introduce a new animal every year. Pure tin has a high thermal conductivity, and chilling these zodiac cups in advance will keep cold sake cool while enhancing its taste.
NOUSAKU - Handed down and rooted in Takaoka.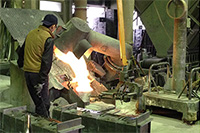 With a history spanning some 400 years, NOUSAKU originally created traditional items such as Buddhist altar ornamentation, tea ceremony paraphernalia and vases. More recently, working in collaboration with specialist designers, the company has developed metal casting techniques to create genuinely unique, 100% pure tin interior items and tableware par excellence.
Considering the time and energy that goes into producing each high-quality piece, they are exceptionally good value. Considerably underpriced. Cliché though it is, Nousaku has thought ' outside the box' and has essentially reinvented tin. NOUSAKU products are innovative, arty and useful - a perfect combination for modern lifestyles.