Field:

Highest Quality Makeup Brushes

Location:

Hiroishima-City, Hiroshima
Ryuzo Okubo
Contemporary Master Craftsman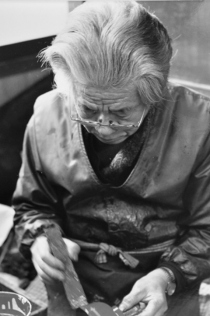 Since he got into the world of urushi lacquering at the age of 15 being influenced by his father, a woodturner, he has been spending his whole carrier of 60 years on it.  While mastering his own technique, he won numerous awards. He worked on a bowl used at "Daijosai" enthronement ceremony of Emperor Akihito in 1990. His works are favored by Imperial Household, including Empress Michiko. He is specified as "intangible cultural heritage" (Sabae-city, Fukui) and one of the "Contemporary Master Craftsman" by the Minister of Health, Labour and Welfare.
The History of KASHOEN
1883

The founder Shozo Takamoto started manufacturing and marketing brushes in Kumano-Cho, Hiroshima.

1930

The second president Tadashi Takamoto started manufacturing of painting brushes and makeup brushes.

1960

The third president Takushi Takamoto and his younger brother Masahiro Takamoto founded Takamoto Co., Ltd. and incorporated the business.

1960

Masahiro Takamoto developed Japanese traditional brushes with modern manufacturing methods, standardized pure domestic brushes and globalized it after research and development in the field of western-style painting brushes. He started exporting Kumano brushes (for makeup and painting) for the first time in Japan, which enjoyed 90% of the market share.

1963

Designated as a company contributing to exports by Hiroshima Prefecture.

1965

Started manufacturing of the first Kumano luxury makeup brushes with modern methods. (Commercialized the first full-scale face brushes with Kanebo COSMETICS INC.) Started exporting painting and makeup brushed directly to the Western countries. (Garrett Hewitt International LLC, CHANEL, GUERLAIN, Origins, Max Factor, REVLON and Elizabeth Arden) Started business with Japan's largest drawing material manufacturer.

1966

The 4th president Masahiro Takamoto invented modern handicraft production method utilizing traditional techniques of craftsmen to boost productivity.

1971

Masahiro Takamoto aimed at domestic production of all high-quality artificial hair with Toray Industries, Inc..

1975

The first domestic Today nylon hair was manufactured. Started direct export to MG America, Robert Simmons, FM Brush.

1977

Started supplying painting brushes to Windsor & Newton (UK) and Royal Talens (NL) with the designation "Royal". Started business with Da Vinci (DE) and Ochean (DE). Successfully automated painting of brush handles for the first time in the world. Exhibited at Messe Frankfurt.

1980

Exhibited at Messe Frankfurt.

1982

Started business with Estée Lauder Companies Inc., (US) Exhibited at Messe Frankfurt.

1983

Started business with NOEVIR. Successfully automated adhering of brush hair for the first time in the world.

1985

Successfully automated making of brush hair for the first time in the world. Annual revenue reached 3.5 billion yen. The 4th president Masahiro Takamoto trained a number of brush craftsmen and made an effort to strengthen infrastructure of brush manufacturing in Kumano to boost productivity for global demand.

1997

The 5th president Naohide Takamoto established an office in Hong Kong.

2002

Established KASHOEN Co., Ltd. to sell original brand makeup brushes. Launched a new brand SHOKO.

2002

Exhibited at HBA Global EXPO in New York.

2003

Launched a new brand KASHOEN

2004

Launched a new brand PASTEL FACE.

2005

Succeeded business of Takamoto Co., Ltd. and started manufacturing and marketing of makeup, painting, medical and nail art brushes. Launched a new brand S-pro for professionals.

2006

Opened a showroom in the head office.

2007

Exhibited at beautyworld JAPAN WEST in OSAKA

2008

Exhibited at beautyworld JAPAN 2008 in TOKYO and beautyworld JAPAN WEST in OSAKA.

2009

Exhibited at Gift show 2009 Spring in TOKYO.

2009

Opened KAHOEN Hiroshima.

2011

KAHOEN Hiroshima receives an award of "Superior Stores in Hiroshima, 2010.

2012

Opened KAHOEN boutique Ginza.
Back to Brand List