Sake Pitcher made in combination of pure tin & finest gold leaf
The "Katakuchi" pitcher can be used for sake in much the same way as a decanter is used for wine. The inner surface of this pure tin vessel, with its luxurious coating of gold leaf, shows off the clarity and transparency of sake and enhances its appeal. The pitcher is made in collaboration with a gold-leaf expert from the city of Kanazawa, which is near Takaoka, where Nousaku is located. Kanazawa boasts the highest output of gilded items and the most advanced gilding techniques in the world, and the production of gold leaf is one of its major traditional industries. Refrigerating the pitcher for a minute or two before filling it with sake will give the liquor a delicious chill, thanks to the high thermal conductivity of pure tin. This gilded pitcher can also be used to serve other liquids such as sauces and dressings.
** This product is introduced in the feature article "Metal a la Mode"**

NOUSAKU - Handed down and rooted in Takaoka.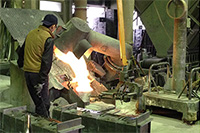 With a history spanning some 400 years, NOUSAKU originally created traditional items such as Buddhist altar ornamentation, tea ceremony paraphernalia and vases. More recently, working in collaboration with specialist designers, the company has developed metal casting techniques to create genuinely unique, 100% pure tin interior items and tableware par excellence.
Considering the time and energy that goes into producing each high-quality piece, they are exceptionally good value. Considerably underpriced. Cliché though it is, Nousaku has thought 'outside the box', and has essentially reinvented tin. NOUSAKU products are innovative, arty and useful - a perfect combination for modern lifestyles.