FUN

+

Whether at work, school, or home, most of us depend on, or at least reach for, some sort of stationery item daily. We love the desk accessories made in Japan, where even a tiny neighborhood shop will offer an eye-popping variety of colors and functions for items as seemingly mundane as pencils and erasers. A visit to the pen aisle—or aisles!—can literally make your head spin. Japan's stationery makers have turned these and other everyday tools into playful things that make deskwork fun. From masking tape and memo tags to fashionable sticks of glue and paper clips, we've assembled a few of our favorites that you'll love owning—and others will love you for when received as a gift!
Masking tape: from assembly-line toolkit to home decor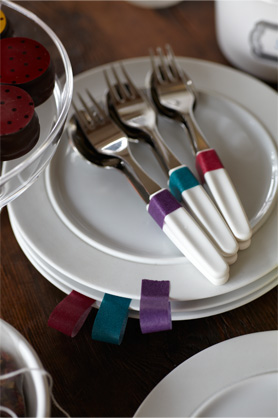 Those aren't rolls of ribbon you see pictured here, they're masking tape—a product that's come a long way from its industrial-beige beginnings. Invented in the 1920s to cover surfaces being prepped for painting and then peel off neatly, masking tape didn't have to be pretty to look at (it wasn't!), and truth be told, it didn't always peel away so cleanly, either. Today, superior low-tack adhesives made in Japan come in pop colors and designs that have launched a booming crafts market, in turn generating any number of how-to books on their use in wrapping, decorating, scrapbooking, and other imaginative ways.

Easy to remove and reaffix, these stylish tapes can be put to work at your next home or office party, for example—marking plates, cutlery, and stemware for easy identification. Non-toxic types, of which there are many, can even be used to wrap finger foods. The uses really are limited only by the imagination! We especially like the soft colors and Japanese designs of the Hamamonyo series of "memo rolls" by Yamato, a leading adhesive maker in Tokyo with a more than 100-year history. Their fun motifs, taken from cotton tenugui hand towels made by Hamamonyo of Yokohama, feature broad beans, hydrangea, stripes, and cats. In the office we use these handy tapes to liven up message boards, flag pages in our desk diaries, and highlight special dates on wall calendars. They tear off from the roll readily, and their surfaces can be written on. We also like that they're made of a plant-based polymer, which means they're biodegradable.

For sale on this site, we've combined a selection of tapes from the Hamamonyo series—in prints and solids—with a trio of Yamato's matching glue sticks. These glues not only have great tack and adhesion, they're non-toxic and water-soluble. That means they're safe for children and they wash right out of clothing. Have fun finding your own creative uses for these colorful tools!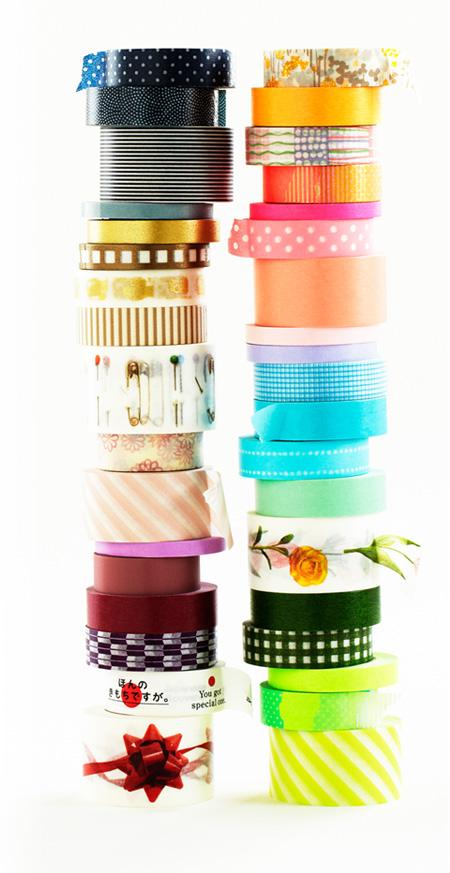 Clip it, note it, make a memo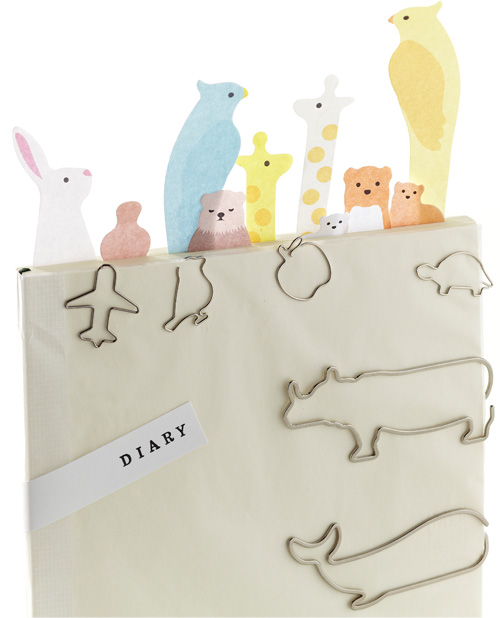 While masking tape has spread from the industrial and DIY realms to turn up in craft kits and desk drawers, paper clips and sticky notes have migrated from the workplace to—just about anywhere you can think of.

Designphil, headquartered in Tokyo, is the creator of D-Clips, a novelty item that's iconic of today's design-forward stationery goods. Collectors watch for limited releases of these whimsical paper clips, and people of all ages and bents enjoy their clever designs. Cat and dog lovers, musicians, travel buffs, gardeners, farmers—there's a D-Clip for everyone. And the company's focus on quality means these decorative clips function just as they're supposed to in the conventional mode of holding papers together. A large-sized version makes a great money clip, too.

Another of our Designphil favorites is the brand's animal-shaped series of sticky notes, or memo tags, that serve as pinpoint text markers. With their endearing expressions, these elongated creatures—rabbits, birds, giraffes, weasels, and sea otters—also make excellent storytelling props for young children and charming bookmarks for readers of any age. Masami Nakamura, a spokesperson for the company, considers such items a kind of communication tool. "Imagine you're handing a colleague a bundle of documents at work," she explains. "You've fastened the papers with an eye-catching clip and marked the places requiring their attention with some cute memo tags. What would otherwise be a humdrum exchange might prompt the recipient to say, 'Wow! What's this?' And suddenly, a conversation begins."
This extra element of pleasure that Japan's stationery designs bring to the "given" of functionality has certainly caught our attention. Pocket-sized doses of accessible luxury, these little flights of flair and whimsy make us smile.