Enhance your work environment with natural elegance
There's really nothing like quite the warm, natural aesthetics of real wood. Beautifully offsetting the plastics and metals surrounding the electronic gadgetry of the modern workspace, the Desk Organizer shows off the elegance of genuine woodgrain. Designed by Hacoa, a Japanese brand well known for its hand-carved computer peripherals, the Desk Organizer is lovingly constructed by a master craftsman from carefully selected, top quality Japanese ash or walnut. Combining nature, creativity and precision engineering, the Desk Organizer is simply outstanding in both form and function. The clean lines of the tray and the distinctive joinery of the two boxes' are stylish statements of practicality designed to keep your 'bits and bobs' neat and close at hand.
Created from a renewable, sustainable and recyclable resource, a Hacoa Desk Organizer is a very pleasing gift. (No need to worry about deforestation as the lumber comes from responsibly managed forests). Whatever the occasion, there is something in the Hacoa range to suit almost everyone!
Hacoa - Ecology, Hacoa style.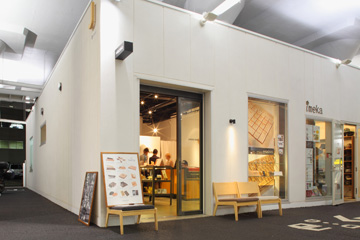 Based in Fukui prefecture, Yamaguchi Crafts began life some 50 years ago producing wooden boxes to be urushi lacquered. Concerned about the ever increasing consumption of plastics in the developed world, in 2001 they began to produce ecologically friendly items under the brand name Hacoa (taken from 'hako' meaning box in Japanese). Hacoa create beautiful, useful wooden items to fit our environmentally friendly, modern lifestyles. Occasionally also producing one-off items, in 2002 they created a name box to commemorate the birthday of Princess Aiko, and in 2004 were commissioned to produce wooden plaques for two luxury cruise liners, the Diamond Princess and the Sapphire Princess.