A Visit to Glass Studio Kirlo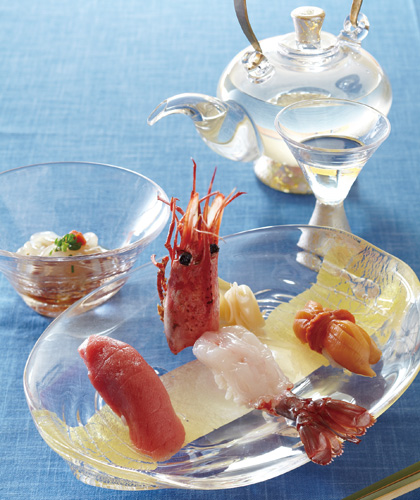 When the March 11, 2011 earthquake and tsunami struck the Tohoku region, many businesses in the city of Shiogama, Miyagi prefecture were devastated. Saura Shuzo, maker of the renowned Urakasumi brand of sake, was inundated by seawater and its earthen-walled kura brewhouse collapsed. Answering the call from company president Koichi Saura to "revive Shiogama and the whole of Miyagi," Shiogama chefs collaborated on a special Tohoku seafood menu to go with Urakasumi and served it in select dishes, including works by local Miyagi glass artists Studio Kirlo, as featured in the Spring-Summer 2012 issue of KIE.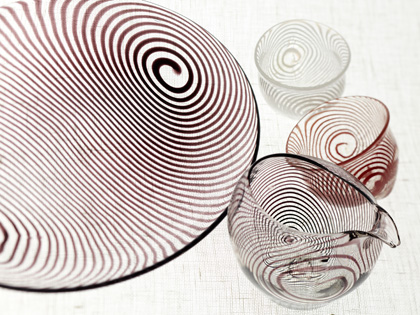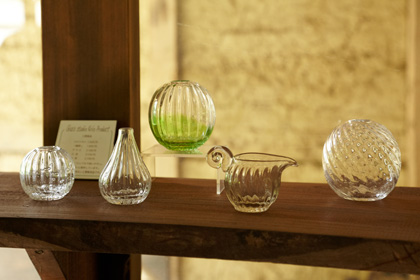 Eiji Shiga has won numerous awards, including top prizes at the 18th Asahi Contemporary Craft Exhibition (2000) and the 16th Kahoku Art Crafts Exhibition (2007). Since establishing Studio Kirlo with Shiga in the town of Murata in 2005, Matsuda has actively exhibited her glassworks throughout Japan, including the 26th Asahi Contemporary Craft Exhibition (2008).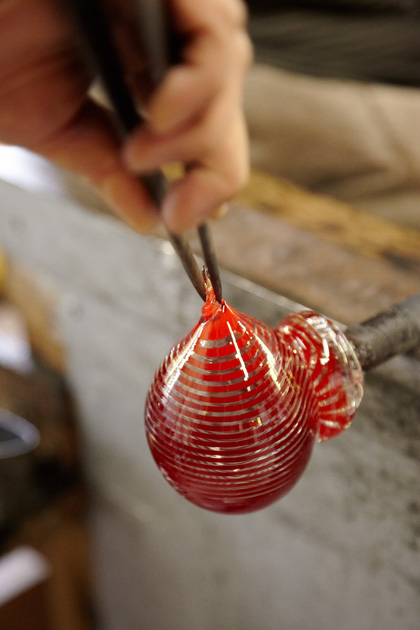 The two artists employ both glassblowing and kiln-fired techniques. Shiga's handblown pieces stand out for their unique vertical spiral patterns, a signature motif inspired by the tree rings he saw as a boy in his father's woodworking shop. As one eats or drinks from his creations, the spirals seem to flow right out of the cool, crystalline glass like a refreshing stream or breeze.
Matsuda's works are an equally distinctive melding of glass and metal. The sake server, sake stemware, and platter shown here are all made of handblown glass with applied ginzumi silver foil; five to seven times thicker than silver leaf, the foil gives off a shimmer of gold once fired. Drawing upon her childhood love of patinated metal, Matsuda began accenting the limpid clarity of glass with shiny ginzumi to add a festive note for parties and banquets. The silver will gradually tarnish with use, but it can be polished or allowed to darken to any desired hue as a personalized expression of the owner's tastes.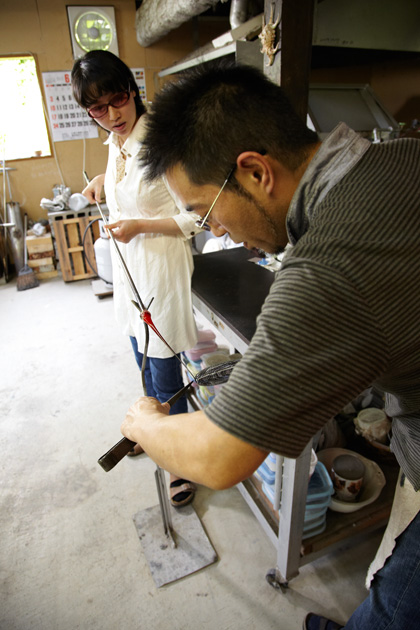 While Studio Kirlo emerged largely unscathed from the Tohoku earthquake-tsunami, the two artists debated whether or not to hold a scheduled exhibition only two months later in the devastated city of Sendai: "People needed food and water, the basics of survival. What we're doing is, in a sense, egotistic. No one will be the worse without expensive glass utensils." Many artisans in the region faced this same moral dilemma. Shiga and Matsuda considered cancelling the show, but the gallery urged them to go ahead with it. Ultimately, their misgivings evaporated when a disaster victim told them, "Seeing these beautiful things lifted my spirit." With renewed conviction that their work has a role to play in the world, the two artists are glad to know that their glass creations can soothe and inspire people.