Field:

Heritage Carpentry & Lacquerwork

Location:

Wajima-City, Ishikawa
Taiichi Kirimoto
The third generation, Taiichi, majored in product design at university and worked at another company doing office planning before returning to the family business in Wajima. Taiichi undertook a 4.5 year carpentry apprenticeship before beginning to help Toshihei with managing the business, making carving proposals, design proposals, as well as supervising the overall production of lacquerware.
By adding a number of craftspeople who specialize in lacquering techniques to their family of carpenters, Taiichi expanded the scope of Kirimoto Wood Craft. He continues to pursue many possibilities, from getting to know other local craftspeople, to collaborating with city-dwelling designers, all in an effort to rekindle interest in lacquerware and wood products and make them once again a common part of everyday life.
Noto Wajima
Shiroyone Senmaida
Shiroyone (White Rice) Senmaida (A Thousand Rice Fields) is found along Route 249 between Wajima and Sosogi. A thousand geometrically shaped, small rice fields run down to the seashore. (The number designated by the state is actually 1,004.) In spring and summer, beautiful sunsets above the ocean reflect off the rice fields making the area a popular photo location.
(Quote: Noto Wajima Tourist Association Web Site)

Sodegahama Beach
Selected as one of the best 100 beaches in Japan by the Ministry of the Environment in 2006, the natural beauty of nature can be relished at Sodegahama Beach. Adjoining Kamogaura Beach, which is famous for rhyolites (fine-grained extrusive volcanic rocks, similar to granite in composition that usually exhibit flow lines), a panoramic180 degrees view of the horizon can be enjoyed from the tower on the nearby Mt. Tenjin. In summer, the view of the sun setting over the sea is picturesque. There are several well equipped camp sites in Sodegahama, a few minutes walk from the famous Wajima Morning Bazaar.
(Quote: Noto Wajima Tourist Association Web Site)

Lacquer Trees
There are more than 600 species of plant belonging to the Anacardiaceae family, but only eight species in east Asia are suitable for collecting sap for lacquerware production.

Tapping Lacquer
Sap is harvested by scratching the bark of 10 to 15-year old lacquer trees. Though the Lacquer Tapping season is mid-June to the end of November, only about 200cc of sap can be collected from a single tree per year.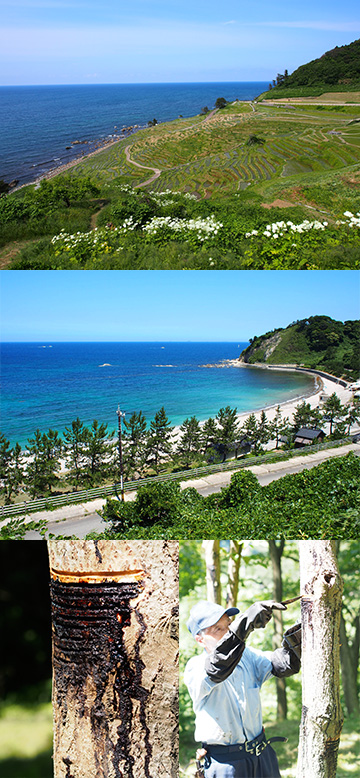 Back to Brand List