Field:

Carving

Location:

Tokushima
Ikawa Chokokuten Ltd.
Products
Masahiro Ikawa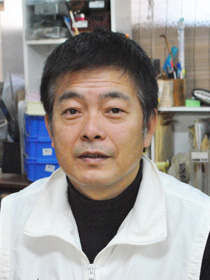 Born in 1961 as the eldest son of Sawakichi the Second of Ikawa Chokokuten (established in 1932).
He aspired to become a sculptor since childhood. At the age of 18, he moved to Kyoto to train under a master sculptor of Kyoto Buddhist altars.
He returned to Tokushima after working in Kyoto for 6 years, and received training from his father to become a sculptor of "Karaki Butsudan" ("rare foreign wood altar") - a traditional local craft.
He currently creates sculptures for temples and shrines, Buddhist altar scuptures, character sculptures, scupted interior goods, etc. as the third generation sculptor of Ikawa Chokokuten. He continues to preserve the traditional sculpting skills handed down across generations, and makes highly artistic and unique works using techniques of Kyoto Buddhist altars and Karaki Butsudan altar sculpting.
Back to Brand List