iPhone4/4s Timber Treats
This piece of wood art is designed and engineered to snugly encase and protect the iPhone4/4s. Each case is machined from a single block of wood to precise measurements before being hand-finished. Harmony of technology and nature is achieved making the iPhone4/4s look and feel great in a choice of maple, walnut or rosewood. With time and regular use, the timber will acquire a unique patina making your iPhone4/4s even more attractive.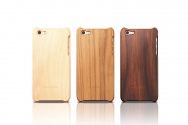 ← Wooden Case For iPhone 5/5s Here!
Ecology, Hacoa style.
Based in Fukui prefecture, Yamaguchi Crafts began life some 50 years ago producing wooden boxes to be urushi lacquered. Concerned about the ever increasing consumption of plastics in the developed world, in 2001 they began to produce ecologically friendly items under the brand name Hacoa (taken from 'hako' meaning box in Japanese). Hacoa create beautiful, useful wooden items to fit our environmentally friendly, modern lifestyles. Occasionally also producing one-off items, in 2002 they created a name box to commemorate the birthday of Princess Aiko, and in 2004 were commissioned to produce wooden plaques for two luxury cruise liners, the Diamond Princess and the Sapphire Princess.
Product Details
Country
Japan
Specification

Specifications

Material / Weight: Walnut (16g), Rosewood (20g), Maple (19g)
Size: W64 x D12 x H117 mm
Coating: Clear polyurethane

Care Instructions

-Wood cut to this thickness is somewhat delicate. If you drop it or use too much force the case will break.
-Do not bend or force the case in any way.
-Refrain from repeatedly attaching and removing the case.
-Avoid using near heat sources.
-Avoid using in humid, dry or high temperature conditions for extended periods.

Kindly Note

As HACOA uses genuine timber, grain patterns and colors of products vary slightly. Please be aware that the item you receive will not be exactly the same as the image.
Wooden iPhone4/4s Case
¥ 7,020
In other currencies $ 61.34 USD
Gift wrapping available

Contact us
+81-3-5781-8975

(Weekday, 10:00 - 18:00)

Inquiry Form

(We'll reply within 24 hours)
Returns
Guide for Ordering Procedures
Order Procedures
Orders can be made anytime.

An automated mail will be delivered from ALEXCIOUS after an order has been placed.

3

Approximate Shipping Date Mail

For products that may take up to a week to dispatch, another mail will be sent to notify the approximate shipping date in 1-3 business days

4

Shipment Confirmation Mail

A confirmation mail will be sent with the voucher number that indicates that the product has been shipped.

After the order has been delivered, we request that you kindly rate our product on the review page.
Delivery and Wrapping
Shipping Method
Delivery within Japan: Sagawa Express, Delivery Overseas: Express Mail Service (EMS) via the Japan Post Service
Shipping Fee

Within Japan:

¥ 600

Overseas:

Estimated Delivery Date

Within Japan:

Domestic delivery usually takes 1-3 days after the order is shipped.

Overseas:

For international delivery, delivery time can be estimated based on that of EMS (International Express Mail Service) once the order is shipped.Check the delivery time here.

Ship from
Shinagawa-ku, Tokyo
Track

Within Japan:

Overseas:

Insurance
Included
Wrapping
Message card (+ 50JPY) and gift wrapping (+ 410JPY) options are available. (Gift wrapping materials may be different from the image due to the size or shape of the product.)
Payment Method
(1) Credit card (no handling fees)

(2) ATM (no handling fees)

(3) Convenience stores (no handling fees)

(4) Online banking (no handling fees)

(5) PayPal (no handling fees)

(6) Cash-on-delivery (COD) (For domestic shipping and wristwatch purchases only)

For those who would like to pay via cash-on-delivery (COD), please select the ATM option. Then, please specify the COD option and the desired date of delivery (excluding weekends, the date can be no sooner than 4 days after the order) on the information form below. Cash-on-delivery Option/ Service Fees

Less than JPY 10,000
JPY 10,000 or above ~ less than JPY 30,000
JPY 30,000 or above ~ less than JPY 100,000
JPY 100,000 or above ~ less than JPY 300,000

Customers outside Japan

(5) PayPal (no handling fees)

Kindly notes
If you view our site in Japanese, you may choose any one of the above 6 payment methods. If you view our site in other languages including English, you may only make your payment with (5).