Charming simplicity captures the essence of Japanese aesthetics!
The perfect accompaniment for beginning or enhancing a life-long love affair with the exquisite flavors of Sake.
Whether you're a seasoned Sake sampler, or a beginner setting out on the road to mastering the mysteries of Sake sipping etiquette, the Bamboo Sake Set is the perfect way to enhance your enjoyment. The stunning combination of bamboo design and superb hammered finish beautifully captures the very essence of the Japanese spirit.
This set of inspired art, in the guise of Sake-ware, is the brain-child of one Kimio Nonaga, a young Japanese cuisine chef of Nihombashi Yukari, a prestigious restaurant noted for its traditional cuisine. Nonaga achieved national fame after appearing on and finally winning the title of 'Iron Chef' on the famous TV show of the same name.
The aesthetically perfect Bamboo Sake Set is made of 100% pure tin. Believed to remove impurities and so markedly improve the flavor of Sake, you should be aware that the choice of pure tin, combined with the set's inherent beauty, may cause you to consume more of your favorite Sake!!
Created at the NOUSAKU Foundry in the talent filled cast-metal working Takaoka City, the Bamboo Sake Set components are given a hammered finish by an accomplished specialist, Kenji Mizumaki, whose magic hands create a wonderfully smooth, gentle texture. Upon completion, the underside of each piece is stamped with the hallmark, "NOUSAKU" and "Nihombashi Yukari" in Japanese characters.
Presented in a bespoke paulownia wood box, the set is a pleasure to own and use, and makes a superb gift that cannot fail to please.
** This product is selected as "20 Ideas to Stay Comfortable This Summer"**

NOUSAKU - Handed down and rooted in Takaoka.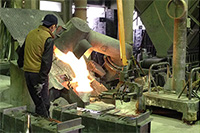 With a history spanning some 400 years, NOUSAKU originally created traditional items such as Buddhist altar ornamentation, tea ceremony paraphernalia and vases. More recently, working in collaboration with specialist designers, the company has developed metal casting techniques to create genuinely unique, 100% pure tin interior items and tableware par excellence.
Considering the time and energy that goes into producing each high-quality piece, they are exceptionally good value. Considerably underpriced. Cliché though it is, Nousaku has thought 'outside the box', and has essentially reinvented tin. NOUSAKU products are innovative, arty and useful - a perfect combination for modern lifestyles.