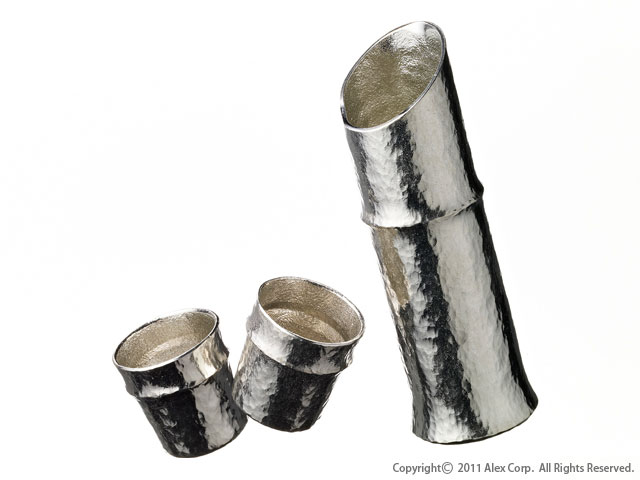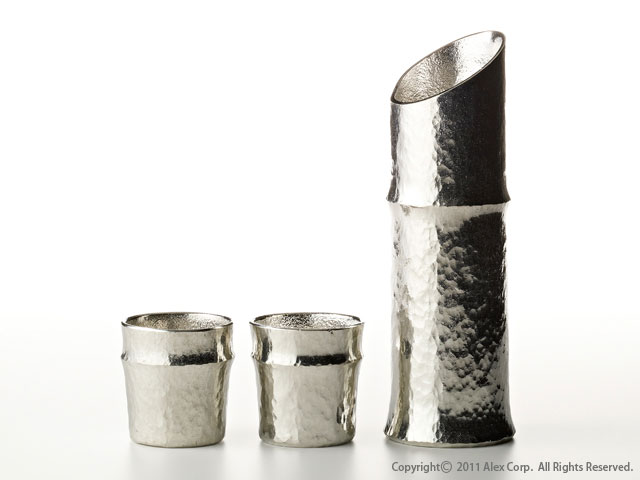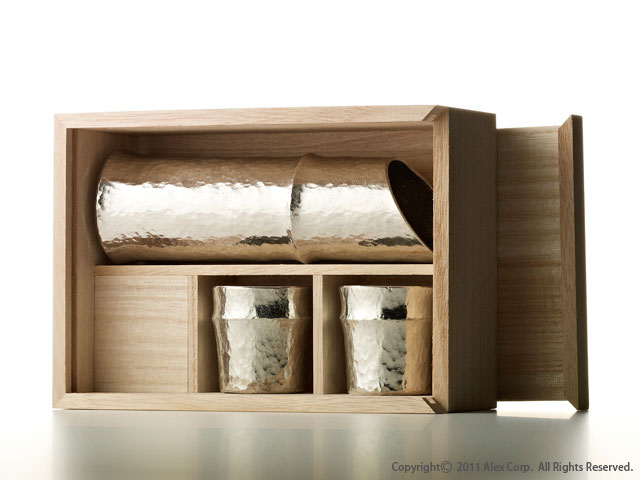 Product Description
Pure Tin Sake Decanter & Cups Tin Decanter Set by NOUSAKU
Charming simplicity captures the essence of Japanese aesthetics!
The perfect accompaniment for beginning or enhancing a life-long love affair with the exquisite flavors of Sake.
Whether you're a seasoned Sake sampler, or a beginner setting out on the road to mastering the mysteries of Sake sipping etiquette, the Bamboo Sake Set is the perfect way to enhance your enjoyment. The stunning combination of bamboo design and superb hammered finish beautifully captures the very essence of the Japanese spirit.
This set of inspired art, in the guise of Sake-ware, is the brain-child of one Kimio Nonaga, a young Japanese cuisine chef of Nihombashi Yukari, a prestigious restaurant noted for its traditional cuisine. Nonaga achieved national fame after appearing on and finally winning the title of 'Iron Chef' on the famous TV show of the same name.
The aesthetically perfect Bamboo Sake Set is made of 100% pure tin. Believed to remove impurities and so markedly improve the flavor of Sake, you should be aware that the choice of pure tin, combined with the set's inherent beauty, may cause you to consume more of your favorite Sake!!
Created at the NOUSAKU Foundry in the talent filled cast-metal working Takaoka City, the Bamboo Sake Set components are given a hammered finish by an accomplished specialist, Kenji Mizumaki, whose magic hands create a wonderfully smooth, gentle texture. Upon completion, the underside of each piece is stamped with the hallmark, "NOUSAKU" and "Nihombashi Yukari" in Japanese characters.
Presented in a bespoke paulownia wood box, the set is a pleasure to own and use, and makes a superb gift that cannot fail to please.
** This product is selected as "20 Ideas to Stay Comfortable This Summer"**

Product Details
Country of origin
Japan
Specification

Specifications

Material: 100% Pure Tin
Pitcher: H170 x Ø55 (H6.7 x Ø2.2 in.)
Cup x 2: H50 x Ø48 (H2 x Ø1.9 in.)
Total Weight: 1000g (35.3 oz)

Care Tips

Using a soft cloth or sponge, wash with mild soap. If your Sake Pitcher set becomes tarnished, a commercially available metal polish or baking soda, will bring back its luster.

Kindly Note
As this item is made to order, it may take up to 3 weeks to manufacture and ship from Japan.
Delivery and wrapping
Shipping Method

Delivery within Japan

: Sagawa Express,

Delivery Overseas

: Express Mail Service (EMS) via the Japan Post Service
Shipping Fee

within Japan

:¥3,610


Overseas

:Payment Method(United States) $35.34USD
Estimated Delivery Date

Domestic Shipping

Domestic delivery usually takes 1-3 days after the order is shipped.

Overseas Shipping

For international delivery, delivery time can be estimated based on that of EMS (International Express Mail Service) once the order is shipped.

Check the delivery time here.
Ship from
Shinagawa-ku, Tokyo
Track
Sagawa Express Tracking Info Site
EMS Tracking Info Site
Insurance
Included
Payment Method
Payment Method

(1) Credit card (no handling fees)

(2) ATM (no handling fees)

(3) Convenience stores (no handling fees)

・Seven Eleven
・Lawson
・Family Mart
・Mini Stop
・Circle K Sunkus
・Daily Yamazaki, Yamazaki Daily Store

(4) Online banking (no handling fees)

(5) PayPal (no handling fees)

(6) Cash-on-delivery (COD) (For domestic shipping and wristwatch purchases only)
For those who would like to pay via cash-on-delivery (COD), please select the ATM option. Then, please specify the COD option and the desired date of delivery (excluding weekends, the date can be no sooner than 4 days after the order) on the information form below.

Cash-on-delivery Option/ Service Fees
・Less than JPY 10,000: JPY 300
・JPY 10,000 or above ~ less than JPY 30,000: JPY 400
・JPY 30,000 or above ~ less than JPY 100,000: JPY 600
・JPY 100,000 or above ~ less than JPY 300,000: JPY 1000

Customers outside Japan

(5) PayPal (no handling fees)

Purchases can be made by credit card even if you do not have a PayPal account.
Kindly Note
If you view our site in Japanese, you may choose any one of the above 6 payment methods. If you view our site in other languages including English, you may only make your payment with (5).
Order Process
1. Placing an Order
Orders can be made anytime.
2. Confirmation Mail
An automated mail will be delivered from ALEXCIOUS after an order has been placed.
3. Approximate Shipping Date Mail
For products that may take up to a week to dispatch, another mail will be sent to notify the approximate shipping date in 1~3 business days.
4. Shipment Confirmation Mail
A confirmation mail will be sent with the voucher number that indicates that the product has been shipped.
5. Arrival of the Product
After the order has been delivered, we request that you kindly rate our product on the review page.
Pure Tin Sake Decanter & Cups
NOUSAKU
¥33,040
In other currencies
$299.5USD
Shipping Fee:
$35.34USD
 Shipping Address:United States
Gift wrapping available
EMS International orders available