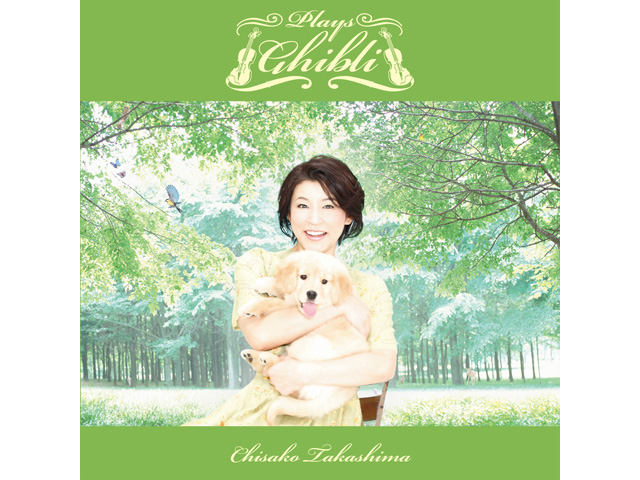 Product Description
Plays Ghibli by Chisako Takashima
Studio Ghibli' movie soundtracks arranged for classical violin - Outstanding!
A huge fan of 'Studio Ghibli' (the world famous Japanese animation production studio), Chisako Takashima presents her superb classical violin arrangements of the 'Princess Mononoke', 'My Neighbor Totoro', etc. soundtracks.
Please see SPEC for the Album Track listing, etc.
Product Details
Country of origin
Japan
Specification

ALBUM: Plays Ghibli

TRACK LIST


1. The Path of Wind ~ "My Neighbor Totoro"
2. Stroll ~ "My Neighbor Totoro"
3. My Neighbor Totoro
4. Nausicaä of the Valley of Wind
5. Departure ~ "Kiki's Delivery Service"
6. A Town with an Ocean View ~ "Kiki's Delivery Service"
7. On a Clear Day ~ "Kiki's Delivery Service"
8. Ponyo on the Cliff by the Sea
9. Love Theme ~ "Lupin the Third"
10. Hilly Town ~ The Elf Queen ~ Floating Clouds ~ Shining Hills ~ Daybreak ~ Country Road ~ "Whisper of the Heart"
11. Princess Mononoke
12. Marco's Grassland ~ "3000 Leagues in Search of Mother"
13. Always with Me ~ "Spirited Away"
14. Carrying You ~ "Laputa: The Castle in the Sky"
15. The Bygone Days ~ "Porco Rosso"

Composers

Joe Hisaishi, Yuji Ohno (9), Yuji Nomi (10), Yumi Kimura (13)

Arrangements

Yuichiro Goto (1,2,3,8,9,13), Tomoyuki Asakawa (4,11), Kazunori Maruyama (5,6,7,15), Shinichiro Kato (10,12,14)

Performers

(Violin)

Chisako Takashima (solo violin), Yuichiro Goto

(Guitar)

Masahiro Itami

(Harp)

Tomoyuki Asakawa

(Piano)

Kazunori Maruyama

Kindly Note
Delivery and wrapping
Shipping Method

Delivery within Japan

: Sagawa Express,

Delivery Overseas

: Express Mail Service (EMS) via the Japan Post Service
Shipping Fee

within Japan

:¥1,110


Overseas

:Payment Method(United States) $10.62USD
Estimated Delivery Date

Domestic Shipping

Domestic delivery usually takes 1-3 days after the order is shipped.

Overseas Shipping

For international delivery, delivery time can be estimated based on that of EMS (International Express Mail Service) once the order is shipped.

Check the delivery time here.
Ship from
Shinagawa-ku, Tokyo
Track
Sagawa Express Tracking Info Site
EMS Tracking Info Site
Insurance
Included
Payment Method
Payment Method

(1) Credit card (no handling fees)

(2) ATM (no handling fees)

(3) Convenience stores (no handling fees)

・Seven Eleven
・Lawson
・Family Mart
・Mini Stop
・Circle K Sunkus
・Daily Yamazaki, Yamazaki Daily Store

(4) Online banking (no handling fees)

(5) PayPal (no handling fees)

(6) Cash-on-delivery (COD) (For domestic shipping and wristwatch purchases only)
For those who would like to pay via cash-on-delivery (COD), please select the ATM option. Then, please specify the COD option and the desired date of delivery (excluding weekends, the date can be no sooner than 4 days after the order) on the information form below.

Cash-on-delivery Option/ Service Fees
・Less than JPY 10,000: JPY 300
・JPY 10,000 or above ~ less than JPY 30,000: JPY 400
・JPY 30,000 or above ~ less than JPY 100,000: JPY 600
・JPY 100,000 or above ~ less than JPY 300,000: JPY 1000

Customers outside Japan

(5) PayPal (no handling fees)

Purchases can be made by credit card even if you do not have a PayPal account.
Kindly Note
If you view our site in Japanese, you may choose any one of the above 6 payment methods. If you view our site in other languages including English, you may only make your payment with (5).
Order Process
1. Placing an Order
Orders can be made anytime.
2. Confirmation Mail
An automated mail will be delivered from ALEXCIOUS after an order has been placed.
3. Approximate Shipping Date Mail
For products that may take up to a week to dispatch, another mail will be sent to notify the approximate shipping date in 1~3 business days.
4. Shipment Confirmation Mail
A confirmation mail will be sent with the voucher number that indicates that the product has been shipped.
5. Arrival of the Product
After the order has been delivered, we request that you kindly rate our product on the review page.
¥3,240
In other currencies
$28.71USD
Shipping Fee:
$10.62USD
 Shipping Address:United States
Gift wrapping available
EMS International orders available
Chisako Takashima / Other products