The brilliance of 'Rinpa' to the world
Due to its close proximity to Kyoto (Japan's former capital), Fukui prefecture's traditional Echizen lacquerware was heavily influenced by Rinpa*, as well as Buddhist culture. However, since our foundation in 1938, KORINDO has worked towards generating a 'New Tradition' of lacquerware to enrich the enjoyment of daily life. We have always drawn on Rinpa's spiritual nature which is free, daring and full of challenges, as well as the artisan's finest skills handed down from generation to generation. We wish to rekindle the deep admiration once felt for Rinpa while showing lacquerware as an expression of Japanese culture both domestically and abroad.

*'Rinpa', a major school of Japanese painting created in 17th century Kyoto that steered Japanese art and culture in the Middle Ages, continues to be produced today.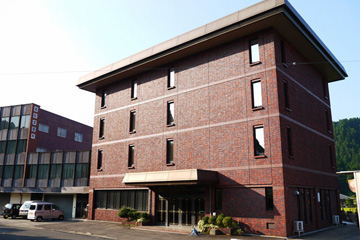 Maki-e KOMA (Spinning Tops)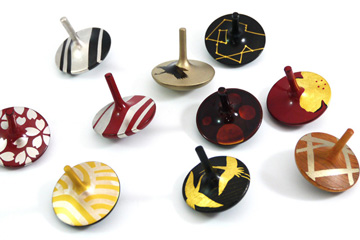 Popular auspicious objects in Japan since ancient times, KOMA have never been so carefully created as they are by KORINDO artisans. As perfect balance is a prerequisite, carving specialists take tremendous care when sculpting each core KOMA shape from either Japanese zelkova or horse-chestnut. Next come the lacquer specialists whose repeated coatings create deep shades of color. Finally, highly skilled Maki-e artisans apply the fine designs for which their craft is famous. KORINDO's modern, uniquely Japanese series of KOMA make delightful interior accessories.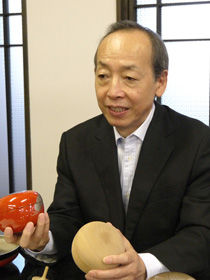 NAOKI MORISHITA
President
The Echizen Lacquerware of Sabae, Fukui prefecture is a 1,500-year-old tradition. Naoki Morishita believes his mission is to pass down the pride and specialist skills of the craftsmen whose techniques were developed over centuries, and the expression of Japanese beauty inherent in the tradition of Echizen Lacquerware to the next generation. At the same time, Morishita is continually working towards the creation of lacquerware as a 'New Tradition' to match the sensibilities and lifestyles of modern society. The extremely high level skills of the artisans and their sincere attitude towards their craft were well acknowledged when KORINDO received the great honor of creating 360 sets of lacquerware for the 1990 banquet held at the enthronement ceremony of the current Emperor.