Field:

Hi-tech Printing

Location:

Mitoyo, Kagawa
Drill Design & Hajime Narukawa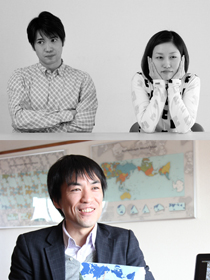 [ Drill Design : Designer]
Founded in the year 2000 by Yusuke Hayashi and Yoko Yasunishi who both studied design in college, DRILL DESIGN is a studio where the pair give total project direction in various fields such as Product, Graphic, and Interior Design. The products they design, which are mainly everyday objects such as furniture, stationery, gardening tools, and kitchen utensils, are available for sale in many countries around the world, including the MoMA Store in New York. They have won numerous awards such as the Good Design special Award.











[ Hajime Narukawa : Inventor of 'AuthaGraph' (another series of world maps) ]
Narukawa, 40, took his first steps on the road to accurately redrawing the map of the world nearly 20 years ago at the Shibaura Institute of Technology in Tokyo, where his interest in geometry led to him studying the so-called geodesic dome structures developed by U.S. engineer, designer and inventor Buckminster Fuller (1895-1983).







Back to Brand List