Enhance the pleasure of your Sake ritual by selecting your favorite Decanter & Cup
There are many different types of 'flasks' and 'cups' from which Sake can be enjoyed.
The generic term for the 'flask' from which Sake is usually served is a tokkuri. Though they come in all shapes and sizes, Tokkuri are usually peculiar in shape, bulbous at the bottom with a narrow neck. An Ichigo-Tokkuri, for example, holds around 180ml while an Issho-Tokkuri can hold as much as 1.8 liters!
The 'cups' used for drinking Sake are generally small cylindrical vessels called ochoko or guinomi and are roughly the size of shot glasses. The reason for their small size is two-fold. Firstly the idea is to sip Sake slowly so that every drop can be appreciated and savored. And secondly, it is customary for members of a group to serve Sake to each other; the cups being small means that each member can pour several times during a party.
Sake sets are usually ceramic or created from porcelain, but they are sometimes made of other materials. Similar to the Meister system in Germany, many Sake sets are created by highly-skilled artisans. Here, we would like to introduce you to hand-crafted sets made of glass, tin and cedar (magewappa).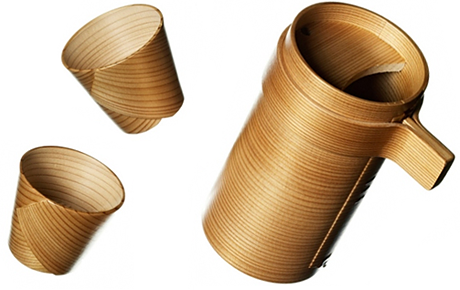 1. Magewappa Sake Set for two
Be eco-friendly and enjoy your Sake with the soothing aroma of cedar. Perfect for both warm and cold Sake.
PRICE

¥11,550 JPY


APPROX

$136 USD
2. Tin Sake Set for two
A charming and practical Sake set.
Made of 100% pure tin. Keeps Sake cool for longer.
Perfect for cold Sake.
PRICE

¥31,500 JPY


APPROX

$373 USD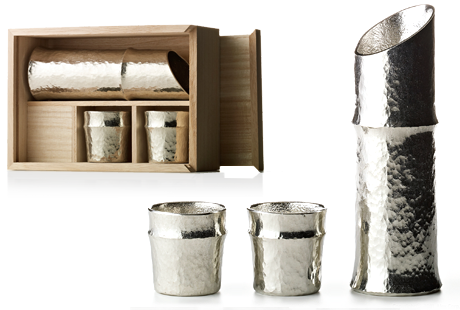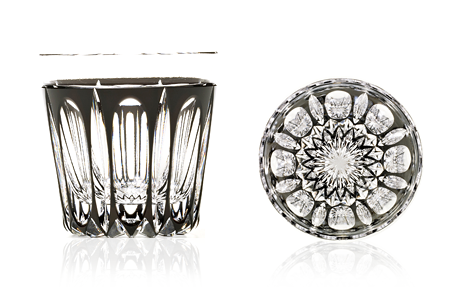 3. Horiguchi Edo-kiriko
Bring a taste of Japan into your life with Edo-Kiriko, the traditional cut-glass of Tokyo. Perfect for cold Sake.
Kaleidoscopic Sake Shot Glass
PRICE

¥26,250 JPY


APPROX

$311 USD
Chrysanthemum Sake Shot Glasses
PRICE

¥10,500 JPY


APPROX

$124 USD
Emerald Green

out of stock

PRICE

¥10,500 JPY


APPROX

$124 USD
Autumn Gold

PRICE

¥10,500 JPY


APPROX

$124 USD
Red

out of stock

PRICE

¥10,500 JPY


APPROX

$124 USD
Aqua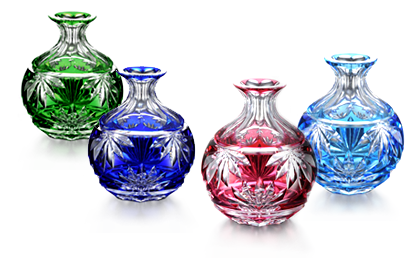 Chrysanthemum Sake Decanter
PRICE

¥36,750 JPY


APPROX

$435 USD
Emerald Green

PRICE

¥36,750 JPY


APPROX

$435 USD
Deep Ocean Blue

PRICE

¥36,750 JPY


APPROX

$435 USD
Sunset Pink

PRICE

¥36,750 JPY


APPROX

$435 USD
Aqua