Inspired by the structure of a bird's nest
Inspired by the structure of a bird's nest, this wooden stand creates a 'home' for hot pots and pans. Comprised of eight 'branches' of different lengths, 'Nest' is constructed to accommodate any shape and size of pot, from a small teapot to a big earthen pot - An elegant addition to any kitchen.
Hacoa Creations
Each Hacoa product has a unique function yet consistent look due to timber choice and design simplicity. The fusion of advanced technology, traditional craftsmanship and cool design has led to Hacoa becoming a leading Japanese brand in the field of woodworking.
Hacoa - Ecology, Hacoa style.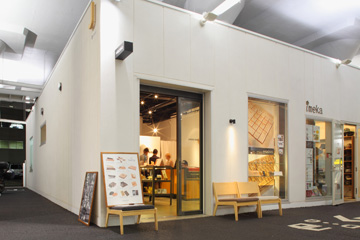 Based in Fukui prefecture, Yamaguchi Crafts began life some 50 years ago producing wooden boxes to be urushi lacquered. Concerned about the ever increasing consumption of plastics in the developed world, in 2001 they began to produce ecologically friendly items under the brand name Hacoa (taken from 'hako' meaning box in Japanese). Hacoa create beautiful, useful wooden items to fit our environmentally friendly, modern lifestyles. Occasionally also producing one-off items, in 2002 they created a name box to commemorate the birthday of Princess Aiko, and in 2004 were commissioned to produce wooden plaques for two luxury cruise liners, the Diamond Princess and the Sapphire Princess.