A timber timepiece of artful ambience
Luxurious lumber
The Hacoa Wall Clock is a handsomely engineered single slab of timber with a Japanese quartz movement. Presented in a choice of solid walnut or maple, the clock's face beautifully shows off its unique natural wood grain patterns. Enhanced by a super smooth satin finish, the face's cleanly drilled, shallow holes indicate the numeral positions while elegant, matte black metal hour, minute and second hands accurately do their job.
A simple, elegant addition to the stylish modern home, this outstanding timepiece can be wall-mounted via a dedicated metal 'keyhole', or by screwing in the supplied stainless steel rods, admired as a mantelpiece or tabletop clock.
The Coolness:
Solid, genuine walnut or maple
Fabulous natural wood grain patterns
Handmade by expert Hacoa artisans
Cleanly drilled, shallow holes indicate the numeral positions
Satin finish
Matte black metal hour, minute and second hands
Tastefully laser engraved with, 'HACOA wood products design'
Runs on a single AA battery (supplied)
Shipped in a handsome matte black box
Very cool gift
Designed and made in Japan
Hacoa - Ecology, Hacoa style.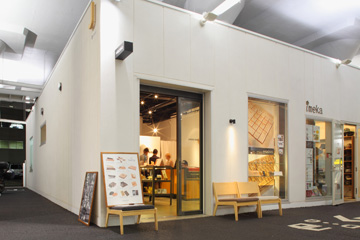 Based in Fukui prefecture, Yamaguchi Crafts began life some 50 years ago producing wooden boxes to be urushi lacquered. Concerned about the ever increasing consumption of plastics in the developed world, in 2001 they began to produce ecologically friendly items under the brand name Hacoa (taken from 'hako' meaning box in Japanese). Hacoa create beautiful, useful wooden items to fit our environmentally friendly, modern lifestyles. Occasionally also producing one-off items, in 2002 they created a name box to commemorate the birthday of Princess Aiko, and in 2004 were commissioned to produce wooden plaques for two luxury cruise liners, the Diamond Princess and the Sapphire Princess.