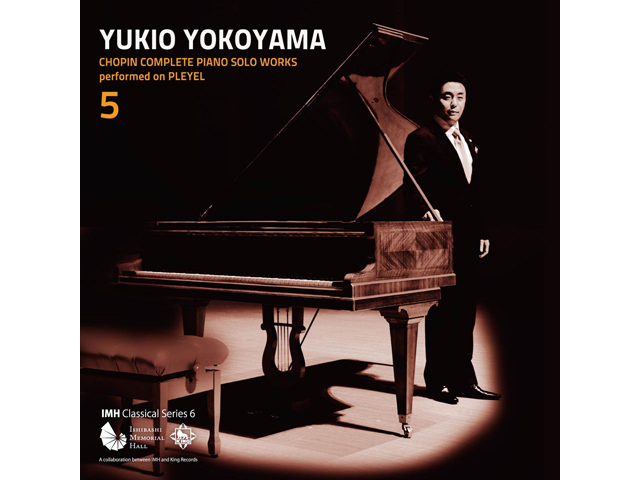 Product Description
Chopin: Solo Piano Works 5 by Yukio Yokoyama on a PLEYEL
Nocturnal Melodies – Evening Facination
With his 'Chopin Solo Piano 12' series, Yukio Yokoyama showcases the legendary composer's major works. A world-class pianist in his own right, Yokoyama breaths fresh life and emotion into some of the greatest classical solo piano pieces ever written.
To get as close as possible to the actual sounds Chopin created, Yokoyama plays a Pleyel piano, as used by the master.
Pleyel et Cie (Pleyel & Co.) is a French piano manufacturing firm founded by the composer Ignace Pleyel in 1807. The firm provided pianos to Frédéric Chopin, and also ran a concert hall, the Salle Pleyel, where Chopin performed his first, and last, Paris concerts. Pleyel's major contribution to piano development was that they were the first to introduce a metal frame in piano construction. Pleyel pianos were the choice of composers such as Debussy, Saint-Saëns, Ravel, de Falla and Stravinsky and of the pianist and teacher Alfred Cortot.
Frédéric Chopin
Frédéric François Chopin (February 22 or March 1, 1810 ~ October 17, 1849) was a Polish composer and virtuoso pianist of French-Polish parentage.
Considered one of the great masters of Romantic music, Chopin was born in Żelazowa Wola, a village in the Duchy of Warsaw. A renowned child-prodigy pianist and composer, he grew up in the city of Warsaw. Chopin completed his music education there, composing many mature works before leaving Poland in 1830 at age 20, shortly before the November 1830 Uprising.
Following the Russian suppression of the Uprising, he settled in Paris as part of Poland's Great Emigration. During the remaining 19 years of his life, Chopin gave only some 30 public performances, preferring the more intimate atmosphere of the salon; he supported himself by sales of his compositions and as a piano teacher. After some romantic dalliances with Polish women, including an abortive engagement, from 1837 to 1847 he carried on a relationship with the French writer Amantine Dupin. For most of his life, Chopin suffered from poor health and died in Paris in 1849 at age 39.
The vast majority of Chopin's works are for solo piano, though he also wrote two piano concertos, a few chamber pieces, and music to accompany some Polish texts. His piano works are often technically demanding, with an emphasis on nuance and expressive depth. Chopin invented the instrumental ballade and made major innovations to the piano sonata, mazurka, waltz, nocturne, polonaise, étude, impromptu, scherzo and prélude.
Product Details
Country of origin
Japan
Specification

Chopin: Solo Piano Works 5

TRACK LIST


1. Nocturne in E minor WN23 (1827).....(3:38)
2. Nocturne in C sharp minor WN37 "Lento con gran espressione" (1830).....(3:37)

3 Nocturnes Op.9
3. Nocturne No.1 in B flat minor.....(5:27)
4. Nocturne No.2 in E flat major.....(3:38)
5. Nocturne No.3 in B major.....(5:42)

3 Nocturnes Op.15
6. Nocturne No.1 in F major.....(3:54)
7. Nocturne No.2 in F sharp major.....(3:15)
8. Nocturne No.3 in G minor.....(3:43)

2 Polonaises Op.26
9. Polonaise No.1 in C sharp minor.....(7:12)
10. Polonaise No.2 in E flat minor.....(7:10)

2 Nocturnes Op.27
11. Nocturne No.1 in C sharp minor.....(5:05)
12. Nocturne No.2 in D flat major.....(5:28)
13. Ballade No.1 in G minor Op.23.....(8:39)

Kindly Note
Delivery and wrapping
Shipping Method

Delivery within Japan

: Sagawa Express,

Delivery Overseas

: Express Mail Service (EMS) via the Japan Post Service
Shipping Fee

within Japan

:¥1,110


Overseas

:Payment Method(United States) $10.62USD
Estimated Delivery Date

Domestic Shipping

Domestic delivery usually takes 1-3 days after the order is shipped.

Overseas Shipping

For international delivery, delivery time can be estimated based on that of EMS (International Express Mail Service) once the order is shipped.

Check the delivery time here.
Ship from
Shinagawa-ku, Tokyo
Track
Sagawa Express Tracking Info Site
EMS Tracking Info Site
Insurance
Included
Payment Method
Payment Method

(1) Credit card (no handling fees)

(2) ATM (no handling fees)

(3) Convenience stores (no handling fees)

・Seven Eleven
・Lawson
・Family Mart
・Mini Stop
・Circle K Sunkus
・Daily Yamazaki, Yamazaki Daily Store

(4) Online banking (no handling fees)

(5) PayPal (no handling fees)

(6) Cash-on-delivery (COD) (For domestic shipping and wristwatch purchases only)
For those who would like to pay via cash-on-delivery (COD), please select the ATM option. Then, please specify the COD option and the desired date of delivery (excluding weekends, the date can be no sooner than 4 days after the order) on the information form below.

Cash-on-delivery Option/ Service Fees
・Less than JPY 10,000: JPY 300
・JPY 10,000 or above ~ less than JPY 30,000: JPY 400
・JPY 30,000 or above ~ less than JPY 100,000: JPY 600
・JPY 100,000 or above ~ less than JPY 300,000: JPY 1000

Customers outside Japan

(5) PayPal (no handling fees)

Purchases can be made by credit card even if you do not have a PayPal account.
Kindly Note
If you view our site in Japanese, you may choose any one of the above 6 payment methods. If you view our site in other languages including English, you may only make your payment with (5).
Order Process
1. Placing an Order
Orders can be made anytime.
2. Confirmation Mail
An automated mail will be delivered from ALEXCIOUS after an order has been placed.
3. Approximate Shipping Date Mail
For products that may take up to a week to dispatch, another mail will be sent to notify the approximate shipping date in 1~3 business days.
4. Shipment Confirmation Mail
A confirmation mail will be sent with the voucher number that indicates that the product has been shipped.
5. Arrival of the Product
After the order has been delivered, we request that you kindly rate our product on the review page.
¥2,690
In other currencies
$23.83USD
Shipping Fee:
$10.62USD
 Shipping Address:United States
Gift wrapping available
EMS International orders available
Yukio Yokoyama on a PLEYEL / Other products